Your Mental Health Will Love This Meditation App
Tackle stress head-on without ever stepping foot in a therapy office or yoga studio.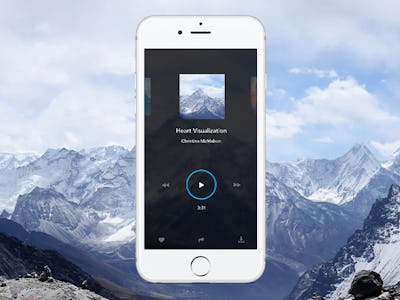 StackCommerce
The Details:
Free daily 3-minute guided meditations
Choose from 3, 7 or 10-minute meditations depending on your comfort level
Additional content includes music, life coaching, and stories
Daily mindful reminders
Track and identify mood patterns to better tackle daily tasks
Compatible with iPhone (8.0 and later) and Android (4.1 and later)
Lifetime access
Why You Want It:
Between deadlines at work, family drama, and the fact that your roommate ate your leftovers (again), you're dealing with a good amount of stress on the daily. But sometimes all it takes is a little moment to yourself to make things a little easier — that's where the Aura app comes in. This brilliant mediation apps offers daily, short meditations that teach you how to breathe and reflect inward — even if it's just for three minutes at a time. Along with guided meditations, Aura offers a wide span of content to help you relax like music, inspirational stories, and even life coaching so that you can face problems head-on without losing control. And over time, you can rate your meditations to make the app aware of what kinds of meditations work best for you.
Voted "Best of 2017" by Apple and featured in Forbes, TechCrunch and more, this meditation app offers easy-to-learn stress management that requires nothing but you, your mind, and a little deep breathing. 
The Deal:
Can't afford a monthly yoga class membership? Get centered with a lifetime subscription to Aura Premium for the deeply discounted price of just $79.99 — that's over 80% off.
Like this deal? Check out Vault — you'll get four premium tools, including NordVPN and Dashlane, to supercharge your online security. Enter code VAULTONE to try it out for just $1!