This Software Will Catch Your Typos and It's Half the Price of Grammarly
From basic spelling correction to full-on style-building, this program can elevate your writing to new heights.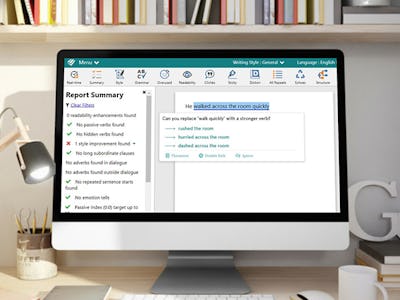 StackCommerce
The Details:
Thousands of helpful writing suggestions
Style critiques that prevent the overuse of verbs or repetitive thoughts
Spelling and grammar correction
Dynamic thesaurus puts countless synonyms at your fingertips
Can be integrated with MS Word and Outlook, GoogleDocs, Chrome, and more
Why You Want It
To be human is to make mistakes, and even the greatest writers spit out a grammatical error or two from time to time. But if you have a way with words and strive to be the best writer you can be, it's important to brush up on basic skills like spelling, grammar, and language in general, whether you're writing a script for the first time or you've been pumping out essays for decades. ProWritingAid is an invaluable tool to any writer, providing you with a handy style editor, grammar and spelling checker, and dynamic thesaurus all in one program — it even provides an array of style suggestions to help you find your own, unique voice. If you're seeking to channel your inner Hemingway — or even Carrie Bradshaw — this virtual writing mentor is exactly what you need to hone in on your craft.
The Deal:
Why enroll in expensive writing classes when you can get the same great advice with ProWritingAid? Get a 2-year subscription to the premium writing software for just $44.99.