This XL Wolfgang Puck Air Fryer Is Over 50% Off
Holy dinner party, this air fryer is huge!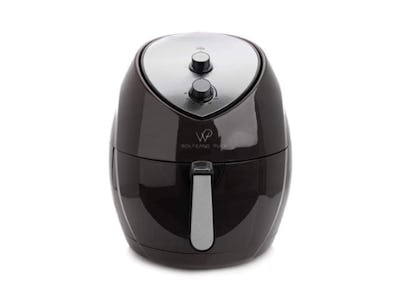 StackCommerce
The Details:
Sleek black exterior
Basket with handle and a pan
Evenly distributed hot air
Extra large 7.2-quart nonstick food basket
Care manual that includes 10 delicious recipes
Why You Want It:
We all love fried food but the extra pounds that come with it? Not so much. That's why this air fryer by Wolfgang Puck is a godsend when it comes to cooking finger-licking-good meals that are actually good for you. This air fryer is unlike others on the market due to the fact that it can handle extra large portions like a whopping five-pound chicken! Not to mention the delicious yet healthy fries, onion rings, fish and more that you can prepare for the family, completely guilt-free. And if you're not into air-frying every night, this genius kitchen appliance can also bake, roast, and so much more.
The Deal
Normally boasting a price tag of $129.95, the Wolfgang Puck 7.2-Quart XL Air Fryer is now discounted to just $59.99!