The Best Budget Sunglasses to Look Amazing and Pay Less
Go Get Yourself Some Cheap Sunglasses!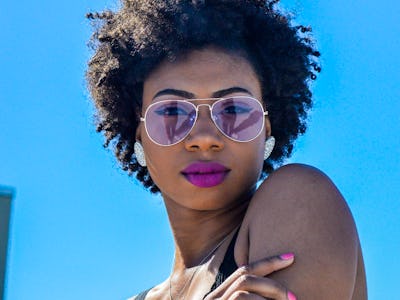 Unsplash / patriçio bike
When you get up in the morning and the light hurts your head, you know you need a pair of new sunglasses. But you don't want to spend what they tend to ask for these things. You want the look. You want the eyes that don't squint. And you want a brain that doesn't hurt. But you also want your money.
We got you!
We scoured the marketplace for sunglasses that will make you fine and take good care of your peeps. And we made sure they aren't so crazy expensive that you'll crawl back into bed until the sun relents instead.
POC is a Swedish performance gear brand that specializes in equipment for skiing and other highly competitive gravity sports. They make helmets and eye wear for serious cyclists and skiers. This is a company that knows about light protection because there is no glare like the sun off of snow. And when the wearer is going fast enough to break world records, they can't afford to be slow blinded for even a fraction of a second.
These sunglasses are not only adorable — with those white frames and light pink lenses — they have a vent that pulls air through to keep the lens from fogging up — without letting the light blind you.
POC glasses are often prohibitively expensive. But once in a while, you find a pair (like these) that are affordable. When that happens? Stock! Up!
If you have a small face, sunglasses tend to slide down your face and irritate you, right? Well this, right here, is a great opportunity to turn that irritation into a bargain.
Smith Optics sunglasses are a performance sport brand known to protect your eyes in demanding situations with high-quality lenses and lightweight frames. But they also look great. Normally that's a combination designed to hurt your wallet.
This pair, though! Amazing, stylish, sunglasses at cheap-sunglasses prices. Buy!
This is the pair that you will wear all summer. Oakley's legendary lightweight frames with straight temple that grips your head instead of grabbing at your ears. On these, that temple also has Unobtainium earsocks that don't get slippy when you sweat.
They are a sweet muted brown and the lenses are polarized. This is not a pair of sunglasses where you compromised for price.
But you did get them for a fraction of list price! Because you know where to shop, you clever devil, you.
Buy a pair for the car. Buy a pair for your backup purse, for when you can't find your expensive glasses, because you want to, or because you just can't keep a pair of glasses long enough to justify spending a Benjamin every time you lose a pair. These are some stylish cheap glasses.
They are polarized, look slick, have aluminum frames, and are cheaper — even — than the drugstore sunglasses you have been buying for this purpose. Get three pairs!
Got a demon in your life that won't let you own any of those expensive glasses you so love for more than a couple of weeks before it takes them away? They break or fall off your head when you are looking into a deep ravine? It happens every time, right?
You are not alone. But you don't have to suffer with glasses that won't protect your eyes for that. 
These are completely affordable. But they are good glasses! Polarized, durable, sporting a classic Wayfarer shape, and built by Huckberry.
They come in several lens shades so you can look at the world through the color that suits you best.
Yuo know the saying, "Looking through rose-colored glasses." Why would you not? Actually, why would you not choose to look at the world through a color that makes you happy? Maybe your color is blue? Maybe it's grey? Maybe it's green.
The color you tint the world with affects how you see it, sure. But what's wrong with hacking the world for your own preference? You can always take the glasses off for a reality check. Why not enjoy?
Choose from four lens colors with these full-spectrum UV protection glasses and enjoy the world you live in.