Absolutely Indestructable, Gravity-Defying Luggage That Can Handle Any Terrain. Yes, Please.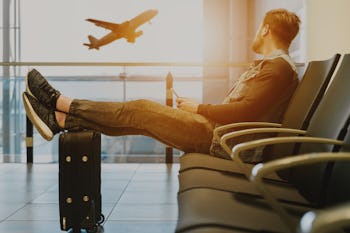 Unsplash / JESHOOTS.COM
If you've ever had a suitcase with wheels that don't work, storage issues, rips and security problems, you've probably found yourself lusting after a new option. After a short Google search, you might feel that every suitcase looks the same. Well, after breaking all records and becoming the most successful crowdfunded luggage camagin, G-RO became the new thing in luggage.
Go to the airport. Once you're there, look at all the luggage around you. Do you see anyone struggling to get their wheels to move? Do you see people tripping over their luggage? Do you see people fussing with way more bags than anyone should carry? After founder, Netta Shalgi saw that luggage innovation had stagnated for over 20 years, Shalgi sought out to invent a new type of wheel for a suitcase that moved with people the way they expected. That's how Shalgi invented what is now called, GravityRoll™ Wheel Technology. Fit to roll over any kind of terrian with use, GravityRoll™ Wheel Technology allows you handle bumps, steps, wet surfaces, grass and even snow without hitting a snag—some might even go so far as to say it felt like they defied gravity.
Built to last through every last-minute trip and hectic vacation, everything made by G-RO is crafted with the highest quality fabrics and materials. Based upon the concept of maneuverability throughout all stages of travel from the car to the airport to the hotel and in between, the G-RO carry-on was created with packing space, ergonomics, smart features and longevity in mind.
Crafted with indestructible GravityRoll™ Wheel Technology, the Carry-On Classic is sized specifically to TSA standards of carry-on size, but packs so much more than your usual. The unique wheels add a new look and maneuverability to your suitcase while the removable 10,000 mAH powerbank make it so you never have to frantically search for an outlet at the airport every again. The included luggage strap makes it easier than ever to attach a camera bag, backpack or purse to your carry-on for added convenience.
After becoming an overnight luggage powerhouse with the launch of the G-RO Carry On Classic, Shalgi and G-RO continued on their quest to innovate every aspect of the luggage experience. Incorporating special TSA locks, easily accessible storage pockets, and the utmost of quality in fabric that'll never tear.