Get Luxurious Bamboo Bed Sheets at 66% Off and Sleep Well
Relax, You've Found The Deal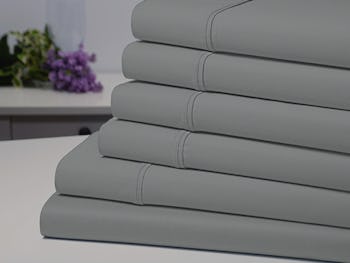 StackCommerce
The Details:
Organic, wrinkle-free breathable fabric
60% high-quality microfiber & 40% bamboo fiber
Why You Want It:
Your bed-sheets are likely overdue for a change, so why not treat yourself to a well-earned upgrade? This 6-Piece Luxury Sheet Set is soft and durable, yet made with eco-friendly material. Take advantage of this deal and you can rest easy knowing you've upgraded your sleep game without hurting your wallet.
The Deal:
The Bamboo Comfort 6-Piece Luxury Silver Sheet Set normally sells for $109, but with this deal at the Inverse Shop, you can snag it for 66% off at $36.99.
Like this deal? Check out Vault — you'll get four premium tools, including NordVPN and Dashlane, to supercharge your online security. Enter code VAULTONE to try it out for just $1!