5 Camping Essentials for Summer Adventures
Don't Leave Home Without Them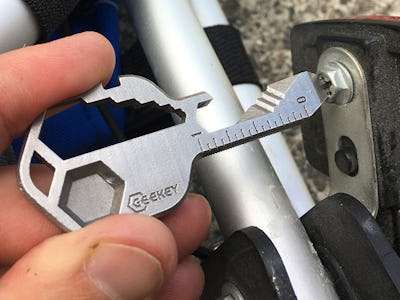 StackCommerce
Gone are the days when humans had to scrape together whatever comforts they could find in the wilderness among poison berries and angry animals. You're not going to eat leaves or sleep inside of a tree, so why not discard the back-to-nature fantasy and bring along some modern tools? Camping is a lot more fun when you master the elements instead of just weather them.
You're headed out into the great unknown, so you have to prepare. Better bring a can-opener, a box cutter, a wrench, and a screwdriver. Or just the Geekey Multi-Tool. True to its name, this incredible multi-tool is the size of a regular house key and is indispensable for those many camping situations where you wish you'd brought your entire toolset along.
The Geekey Multi-Tool is regularly $55.95, but with a 58% discount, you can get it for $22.99.
5-in-1 Survival Flint Fire Starter Bracelet: 2-Pack
You can never tell when you'll find yourself in a survival scenario, but you can be prepared. The 5-in-1 Survival Flint Fire Starter Bracelet contains a flint, a scraper, a compass, a whistle, and paracord string. Even if the worst thing to happen to you on a camping trip is losing your supplies, you won't misplace this essential tool. It stays snug and secure on your wrist.
The 5-in-1 Survival Bracelet comes in a 2-Pack so you and a friend can camp without a care in the world, and is $15.99 in the Inverse Shop (46% off its retail price).
The Slide-N-Glo 3-in-1 Lantern is perfect for exploring dark trails, lighting an area for night-time tent setup, or even telling ghost stories. It functions as a bright LED wide-angle flashlight, an SMD-LED area light lantern, and an SMD-LED flame effect lantern. At up to 80 Lumens in flashlight mode, you'll never worry about being stuck in the dark.
This multi-use lantern usually goes for $24.95, but after a 28% price drop, it's on sale at $17.95.
Stalwart Portable Hammock with Frame Stand & Carrying Bag
What's better than a hammock? A hammock you don't need to tie to trees, of course. The Stalwart Portable Hammock sets up practically anywhere, so you can enjoy a nice graceful nap while your buddies are sitting on the hard ground. It folds up easily and comes with a carrying bag so you can take it on a hike and have a break before heading back to camp.
The Stalwart Portable Hammock retails for $109.99 but is currently 40% off on the Inverse Shop for a deal of $65.
SolarJuice 26,800mAh External Battery
You can't ever seem to find power outlets between the rocks and trees when you're camping. A solar-powered external battery is the next best thing. The SolarJuice External Battery features three high-speed ports and you charge Type-C, USB-C, and QC 3.0 devices simultaneously. It's got a massive 26,800mAh battery that can charge a smartphone many times over and can itself be recharged with the sun's energy. It's like having your own personal power grid.
The typical price for this external battery is $99.99, but with this deal, you can save 53% and get it for $46.99.