5 Multi-Purpose Cookers That We're Obsessed With
Become the home cook of your dreams with these hands-off kitchen gadgets.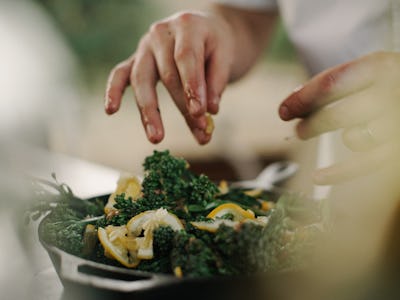 Unsplash / Max Delsid
Some people have been cooking since they could stand, but for some others, cooking for oneself comes later in life—often out of neccessity. Whether you are in the latter group or the former, sometimes life catches up to you and by the time you get home from work to prepare a meal, there's just not enough energy left for anything except ordering take out. First of all, that's expensive and there's a lot of societal guilt involved with eating out every chance you get.
If you're looking to eat at home a little more often or you're just at the stage in your life where you feel you should have a least one signature dish, consider one of the many futuristic kitchen appliances now on the market. With a little help, you could become the cook your mother always dreamed you'd be overnight.
For The Person Who Eats A Little Bit of Everything
Why We Picked It: When it comes to the Instant Pot, all you really have to do is prep your ingredients, pour them into the dishwasher safe interior cooking pot and press the button for what you'd like to make. In addition to the 7 built in functions, Instant Pot features 14 smart programs for soup, meat/stew, beans/chili, poultry, sautè/simmer, rice, steam, slow cook, pressure cook, make yogurt or warm. No more do you have to guess what cooking words mean on the fly, just press a button and walk away.
For The Person With A Work Day That Never Ends
Why We Picked It: Chances are you grew up with a Crock Pot in your house. Whether you are a busy mom whose day never ends or your work keeps you going most days indefinitely, your Crock Pot will always be there for you. This 6 quart version makes enough to serve 7+ people so you can either invite the whole neighborhood over or save yourself ample leftovers. Invited to a potluck? No problem, the removable insert has an easy locking lid for convenient to-go carry.
For The Person Who Cannot Get Enough French Fries
Why We Picked It: The Ninja Foodi is among the top air fryers on the market. Choose from several different settings and prepare your food in a fraction of the time—in many cases without any added oil. Tender crisp technology allows you to have browned, delicious food without having to figure out how to sear. The integrated dehydrator will have you preparing beef jerky, fruit leather and healthy snacks in no time.
For The Person Who Hates Doing The Dishes
Why We Picked It: Who doesn't love breakfast? Who doesn't hate doing dishes? This 3-in-1 breakfast station has all the tools to prepare exactly what you need for a full breakfast spread including 4-cups of coffee, 4 slices of bread and a non-stick griddle with convenient stay-cool lid for perfectly cooked eggs every time. Once you own it, you'll be wondering how you ever did anything before this nifty appliance.
For The Person Used To Eating At Restaurants
Why We Picked It: Ever wanted a perfectly cooked steak? Now it's possible with just the click of a button, thanks to the new found accessibility of kitchen powerhouse, the sous vide. Wancle provides an affordable option for anyone who is used to eating food cooked at restaurant quality. With Wancle's Sous Vide all you have to do is fill a good sized pot with water, clip the device to the side, plastic bag your food with all the necessary seasonings and cook the perfect meal every time with no fuss, noise or worry.