The 7 Top Rated Slim Wallets on Amazon
These slim wallets are the best you can find on Amazon.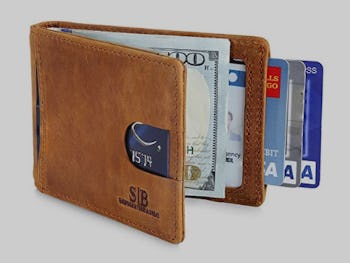 Amazon
Unless you're losing them constantly, wallets aren't something you tend to buy all that often. Even the worst wallet can probably hold your ID, credit cards and cash, but finding a good one isn't hard to find, luckily. If you're looking to upgrade your wallet or downsize your bulky one for a slimmer version, and there's a ton to choose from. Below, we're going to show you the top rated slim wallets you can find on Amazon.
Buffway Slim Minimalist Front Pocket RFID Blocking Leather Wallet
If you're looking for a slimmed-down wallet you can keep in your front pocket, the ultra minimal wallet from Buffway may be your best bet. One side has a side for your credit and debit cards while the front offers up a place for your ID and a clear plastic protection film so you don't have to pull it out every time you're grabbing beer. There's even a small section in the middle for you to stash some cash. Not only this is wallet cheap and offer RFID blocking, it also comes in 25 different colors.
TRAVANDO Money Clip Wallet
If you want your wallet to stay minimal, but still want the standard bi-fold design, Travando's money clip wallet fits the (dollar) bill. While it's primary purpose is to hold cards, you won't find a clear plastic protective film for your ID, so you'll have to pull it out every time you need to show it. There's a convenient outside pocket so you can access your most-used card without having to open the wallet and the inside allows you to store up to 6 additional cards. There's also a built-in money clip on the inside to store your greenbacks.
Available in 8 different color options, the Travando money clip wallet isn't the cheapest at $30, but it looks like it's worth it.
Kinzd Slim Wallet RFID Front Pocket Wallet
Another slim front pocket wallet, but this one comes from a brand named kinzed. A quick glance at the Amazon page yields appears to be fairly standard: it can fit up to six cards, offers a ID window, and has a separate mini pocket for cash and/or receipts. However, it's when you look into the color options that things get a little interesting. With 39 options total, some of which have a slightly varied design and are technically fancy badge holders, the materials change in addition to the colors. While the majority are indeed leather, some are made out of cork board or other materials. Some have a carbon fiber design, and some of the leather options are done up in a waxed oil coating.
Zitahli Minimalist Slim Bifold Front Pocket Wallet
If you're looking for a stylish but minimal front pocket wallet, Zitahli has made one just for you. First, the standard stuff: The slim bifold wallet can hold up to 6-8 cards in total. When opened, there are three card pockets on the left and an ID window on the right side, with a built-in money clip in the middle. It also features another internap pocket capable of holding 2-4 additional cards that can easily be accessed through the use of the smart pull strap. There are two outside pockets cut in a "V" shape for easier access to your every day cards, which is a nice touch.
This wallet comes with a lifetime warranty and it's available in 10 different color options, making it a solid new home for your money.
Hissimo Slim Front Pocket Wallet
If you're looking for a more simple, traditional wallet, look no further than the option from Hissimo. The bifold wallet is basically as no-frills as it gets, which can be a very good thing for some. When opened, you'll find a large money pocket, and ID window, a three card pockets, with another pocket behind them. This is also one of the cheapest options on the list, coming in at only $10. There's also 25 different color options to choose from, so there's an option for everyone.
Serman Brands RFID Blocking Slim Bifold Wallet
One of the pricier options on this list, the Serman Brands RFID Blocking Slim Bifild Wallet. It's basically a fancier version of the Zitahli wallet above. Inside, you'll get an ID window, and pockets for 3 cards. There's also another pocket behind the ID window that you can store 3 additional cards and access vis a smart pulling strap. On the outside, there's a pocket to store an additional card, which has a small thumb hole at the bottom so you can easily put the card out of the pocket. The 8 color options are fairly subdued and very traditional, but easy on the eyes.
Travelambo Front Pocket Minimalist Slim Wallet
Finally, the cheapest option on this list packs a punch. For the most part, it's your standard front pocket wallet, but there are 10 card slots on this thing, along with two long top slots for money, receipts, or tickets. And just because it's a cheap wallet, doesn't mean it doesn't have you covered on the safety front and is an RFID blocking wallet.
Available in multiple color options and prices ranging from $8-$10, this is enough wallet for most people.