The Essential Cast Iron Kitchen Tools Everyone Has to Own
This steal of a set has everything you need and it will last you a lifetime.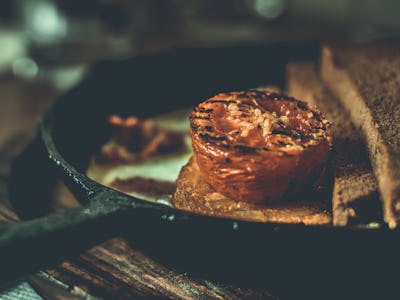 Unsplash / Hans Vivek
When it comes to stocking your kitchen, sometimes it's better to opt for the classics. What do you remember your grandmother owning when you were growing up? What was your mother constantly using? Nearly every purchase you make can be considered an investment and if you're investing, you should have items that are able to withstand the test of time. In terms of the kitchen, the cast iron skillet is a well-known and longlasting staple. If you don't have one, you need one. But there is so much more to cast iron cookware than just a skillet. There are woks, dutch ovens, griddles and so much more.
When cared for properly, cast iron can last hundreds of years and only get better with every meal and seasoning. Consider this fact when you're tempted to purchase the usual stainless steel or non-stick cookware sets. Unlike the usual suspects that frequently have quality control issues or need to be replaced after teflon wears away, cast iron is much easier to vet, buy and maintain.
This is a concept I hold very near and dear to my heart and one of my earliest goals for relationship with my partner was having a robust collection of cast iron we owned together. After much research early on, I decided I wanted to purchase any and all cast iron I owned from well-loved American brand, Lodge.
Every cast iron item I own I either purchased last minute when I needed it or had been graciously gifted. Don't be disorganized like me and spend more than you need to. Fortunately for you, Lodge has a 5-piece set of essential cast iron pieces that will last you a lifetime. Included in the set is a 10.5 inch griddle, 8 inch skillet, 10.25 inch skillet and a 5 quart dutch oven with lid that doubles as a lid for the 10-inch skillet.
Lodge has been making American cast iron since 1896, giving them over 120 years of experience in crafting cast iron that'll last a lifetime. All Lodge cast iron comes pre-seasoned, so all you have to do is give it a quick wipe down with a damp paper towel to get ready to use it. If over time you've noticed that the seasoning has started to disappear, simply re-season with a light coating of oil. This set would normally retail for over $150—still less than I paid for my pieces individually—but sells for just $71 on Amazon. You could not find a better deal even at a thrift shop.
So before you do anything else today, consider taking a step further into adulthood and purchasing your very first cast iron set. After just a single use, I promise your life will be forever changed.