'The Force Awakens' Will Own December With Month-Long IMAX Residency 
It looks to Force-choke every other movie release that month.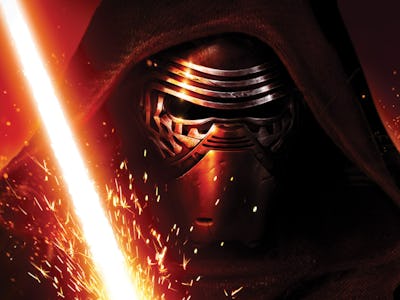 StarWars.com
The Force is strong with IMAX.
For the first month of its release, J.J. Abrams' Star Wars: The Force Awakens will be shown on every single IMAX screen in North America. While the move by the large format company to set specific movies in their theaters isn't unprecedented (they previously applied similar exclusive rights to their screens for Peter Jackson's woeful Hobbit movies), it's still a big deal.
The movie will play in about 400 domestic IMAX theaters and a further 400 internationally. That number even includes museums and other non-theater chains that have IMAX-ready capabilities. If you ask us, that's pretty awesome since it'll throw museums some extra cash by swapping out some boring Serengeti documentary about the mating habits of lions for Star Wars, which isn't necessarily a bad thing.
The number of total IMAX theaters playing the movie could also increase because, according to a story by The Hollywood Reporter, IMAX tends to open its new theaters in the fall.
So what does this mean about the other poor movies opening in December? Well, to be honest, the IMAX push means Star Wars is going to completely own them and the entire last month of the year. Movies usually have a short shelf life in normal theaters, but an even shorter stay in IMAX theaters since there are far fewer of them on which to screen a movie. It's a lucrative space for studios since they benefit from the jacked up the ticket prices for the premium format itself, and that amount goes even higher if the movie is projected in 3D.
Because Star Wars is Star Wars, its sole place on IMAX screens effectively cuts out any room for other films looking for more IMAX-boosted box office receipts. Big November releases like Spectre and Mockingjay Part 2 will have come and gone by the time Star Wars rolls around, with Pixar's The Good Dinosaur still likely to pull in the family audiences into December.
The only movie likely to be really hosed by the takeover is In the Heart of the Sea, director Ron Howard's film adaptation of writer Nathaniel Philbrick's seafaring book. After its release on December 11 it will be — ahem — forced out of IMAX theaters after just one week. But after that, the Leonardo DiCaprio survivalist movie The Revenant will possibly get a chance to get slotted into IMAX screens in January once Star Wars decides to end. But it might very well stretch past its one-month residency based on popularity.
Just think, you could possibly watch The Force Awakens every day in IMAX for over a month. But you'd probably need the resolve of a Jedi to do that.