These Are Like AirPods But Less Than $40
And at over 60% off, this is a pretty good deal.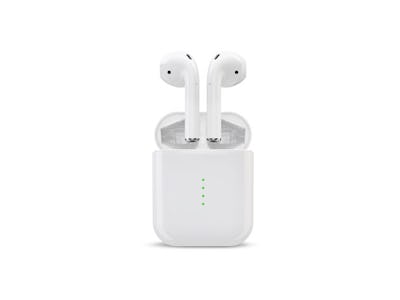 StackCommerce
The Details:
Bluetooth 5.0 audio
4 hours of listening on a single charge
Wire-free listening and charging capabilities
Super comfortable ergonomic design
Portable charging case
Convenient touch control
Auto-pairing
Why You Want It:
You can get wireless earbuds just about anywhere these days but they're usually far from high-quality. But the AirSounds 2 True Wireless Bluetooth Earbuds deliver crisp, Bluetooth 5.0 sound for a price that won't make your wallet cry. What really sets these wireless buds apart from others like them is their sleek, ergonomic design that lets you wear them comfortably for hours at a time — 4 hours of listening per charge, to be exact. They even come with a convenient carrying case that wirelessly charges them as you go about your day, no muss, no fuss. So whether you're jamming out to Cardi B's latest single or answering work calls on-the-go, rest assured you'll enjoy high-quality, wireless sound at a price that can't be beaten.
The Deal:
Normally over $100 bucks, these AirSounds 2 True Wireless Bluetooth Earbuds are just $39.99 for a limited time — that's a 63% discount! Sounds pretty good, right?
Like this deal? Check out Vault— you'll get four premium tools, including NordVPN and Dashlane, to supercharge your online security. Enter code VAULTONE to try it out for just $1!