This Glowing Moon Lamp Changes to 16 Different Colors
This awesome lamp is the perfect gift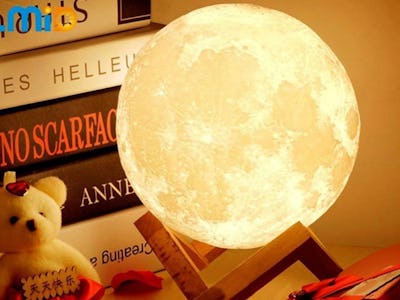 Bonanza
If you've been searching for the perfect mood lighting, this moon lamp might bring an to end your search. We're obsessed with it not only because the idea of a glowing moon in your apartment is really cool, but also because it can change into 16 different colors.
You can choose between a white glowing moon or a more warm yellow tone, but the options only begin there. There are endless colors to switch from. Light purple, amber, blue, and green are just a few. Mood lighting can really change how an entire interior space feels, and this one might be the easiest way to experiment with that. It's simple in the sense that it's not confined to a particular style, but it's also unique enough to set the space of a room.
This is probably one of the most versatile lamps out there. Not only can you choose the colors and alternate between them, but it also comes in various different sizes, from 3 inches in diameter, around the size of a tennis ball, to 9.5 inches in diameter, about the size of a volley ball. This moon lamp comes with a remote control to change between the colors as well as a stylish wooden stand. It's wireless, and comes with a recharging USB cable, so you don't have to worry about placing it near an outlet or having to conceal any electric cords.
The price ranges from $31.99 for the smallest one and $120.99 for the largest one. The large one looks great as a centerpiece of a coffee table on its own, but there are also many options - such as arranging a few of varying sizes together and setting them to complimenting colors. The options really are endless.
Because it's one of those items most people wouldn't think to purchase on their own, but can compliment pretty much any space, it's a perfect gift for a friend or family member you know would appreciate a thoughtful addition to their space.