Our Favorite Recycled Shoes for 2019 Will Reduce Your Ecological Footprint
Buying shoes made from recycled materials is an easy way to reduce industrial waste.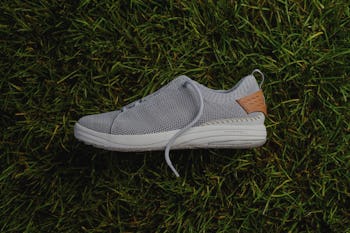 Merrell.com
When it comes to helping the environment, it's pretty much impossible for a single person to make a noticeable difference on their own. That said, if all of us make little environmentally friendly choices every day, those choices start to add up. And one easy choice anyone can make is to buy recycled shoes.
Standard shoe manufacturing methods produce an exorbitant amount of industrial waste, which is bad enough in itself. Making matters worse is the fact that a lot of the most common materials—leather, rubber, and various synthetic textiles—are pretty terrible for the environment. When you buy shoes made from recycled materials, you help cut back on that waste and send a signal to shoe companies that there's a market for sustainable products. And you don't have to sacrifice style for ethics, either, because there are a lot of awesome looking shoes made out of things like recycled water bottles and industrial rubber scraps.
Don't believe it? We went out and found what we consider to be some of the best recycled shoes for 2019. So take a look and see for yourself.
The Timberland Brooklyn Oxford offers classic Timberland style with a retro style vibe. This sneaker features mesh linings made from at least 50-percent recycled plastic bottles, with rubber outsoles made from at least 34-percent recycled materials. The standard Brooklyn Oxford comes in three colors, has a leather and synthetic upper with a perforated toe for breathability, a lace-up closure, and a padded collar and tongue. Timberland also has a version of the Brooklyn Oxford with a breathable camo print mesh upper.
With the Merrell Gridway, you get the support and durability of a hiking shoe in the form of a fashion-forward low-top sneaker. The knit upper and laces are made from 100-percent recycled materials. The shock-absorbing removable EVA foam insoles are made from 50-percent recycled materials. The EVA midsoles are made from 40-percent recycled materials. And the Vibram EcoDura outsole is made from 30-percent post-industrial scrap rubber. With a traditional lace enclosure and ribbed collar for ultimate comfort, these shoes will keep you comfortable and stylish whether you're at the office or on the trail.
French sneaker company VEJA is serious about sustainability. They use either organic fairly traded cotton or recycled materials to make the canvas for all their shoes, and they use wild fair-trade rubber for all their soles. The SDU RT is no exception. The upper is constructed with B-mesh, a breathable synthetic fabric made from recycled plastic bottles. The panels are made from "vegan" (artificial) suede. And the EVA foam insoles and outsoles are made from both recycled and natural rubber, which comes from Amazonian rubber trees instead of oil refineries. Made in Brazil and completely free of any animal products, the VEJA SDU RT will have you looking good with a clean conscience.