What Aunt Lydia's Survival Could Mean for 'The Handmaid's Tale' Season 3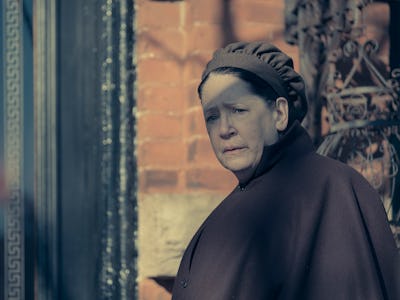 George Kraychyk/Hulu
Aunt Lydia was literally stabbed in the back by Emily in The Handmaid's Tale Season 2 finale and many fans wondered if she'd return to the show in Season 3. Lucky for actress Ann Dowd — but not so much for the handmaids — Aunt Lydia is very much alive and back to wreaking havoc in Gilead, much to the chagrin of June. But now that she's gotten a taste of what she puts the handmaids through and lived to tell the tale, Lydia's survival could pose an even bigger threat in Handmaid's Tale Season 3.
Warning: Light spoilers for the Handmaid's Tale Season 3 premiere below.
Aunt Lydia makes her first Season 3 appearance in Episode 2, "Mary and Martha," and she seems just as strong as ever. Besides her inability to climb the stairs, it's almost like she hadn't suffered an injury at all. She's also still as stern as ever. The reason for her visit, she says, is to ensure June is behaving accordingly under Commander Lawrence's tutelage.
Though she pays Lawrence the respect she's shown to others in his position, there's something off. As soon as he leaves the room, Aunt Lydia asks June about him and she sounds extremely distrustful. She sees the state of Mrs. Lawrence and, though she doesn't say anything to her in the moment, she asks June what's wrong with her. 
In fact, Lydia brings up Emily's stabbing and basically blames Commander Lawrence for it. This is odd considering how harsh Aunt Lydia is with her handmaids, but she suspects Lawrence pushed Emily over the edge. "Emily was only here two days and God only knows what he did to her," she says. So she definitely believes something's going on and that means she'll have more of a reason to be vigilant.
Her suspicions of Lawrence aside, Aunt Lydia seems to have become even more cruel than she was before (if that's even imaginable). She tases June after the handmaid attempts to help her up the stairs. Aunt Lydia is livid, shouting that she'd never have assigned June to a new posting after what she'd done. This behavior denotes Aunt Lydia's control over her handmaids might get even worse. After all, she'd never laid a hand on June while at Commander Waterford's house and Lawrence must have been within earshot. However, if she thinks Gilead's system has gotten too soft, then it's likely she'll figure out ways to ensure no one has the opportunity to misbehave or run away ever again.
In an interview with The Wrap, showrunner Bruce Miller confirmed that Aunt Lydia's perspective will shift in Handmaid's Tale Season 3. Emily's escape and stabbing, along with June's rebellious attitude and attempts to leave, will make Aunt Lydia "double down on that she feels she just wasn't strong enough in her discipline. So she's decided it's time to get tough."
That might mean harsher punishments (like death) and exercising more of her power in public. Knowing Jun has caused trouble before, Aunt Lydia will probably be aware of her whereabouts, which is concerning now that June has allied with the Marthas in the Resistance.
Aunt Lydia has proven herself to be one of Gilead's staunchest supporters, a pious woman who truly believes in the work they're doing. In her mind, she isn't doing anything but her duty and therefore any suffering she inflicts on others is worth it. Given that she's spent the majority of Seasons 1 and 2 conditioning the handmaids into blind obedience, it's no surprise she'd want to crack down in Season 3, especially considering how out of line she believes their actions to be. Whether June gets the brunt of her ire has yet to be seen, but Aunt Lydia will be on the warpath and she's hellbent on maintaining order.
The Handmaid's Tale Season 3 airs Wednesdays on Hulu.