What to Expect From FX's 'The Bastard Executioner' 
The bloody new show premiers September 15th. Here's a primer.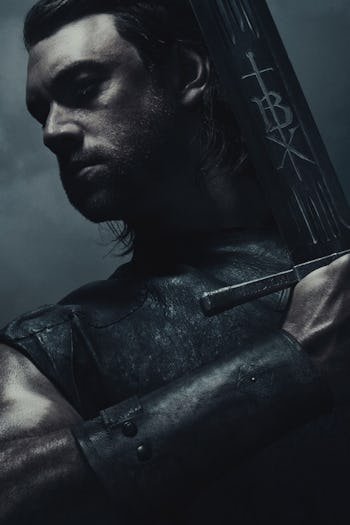 The Bastard Executioner is FX's newest adrenaline-fueled period piece, because even critics are breaking their professional detachment in their enthusiasm about their other one, The Americans. Helmed by Sons of Anarchy's Kurt Sutter, Bastard Executioner takes us back to 14th-century Britain, following a protagonist with an unconventional profession. For those who are unfamiliar with Sutter's repertoire, here's what you can expect from The Bastard Executioner.
There will be blood. Shocking for a show about an executioner. But even so, prepare yourself, because this is no playground scrape-up. As a writer and as a showrunner, Kurt Sutter has a truly depraved mind. That's not an insult — it's a fact, and he'd surely agree. Past examples of his imagination include, on Sons of Anarchy, dangling eyeballs, urine-drowning, bludgeoning via snow globe, stabbing via crucifix, tattoo removal via blowtorch, tongue-chewing-off, and dick-shooting-off. Watching a Sutter show requires a strong stomach or fast reflexes to cover your eyes. Bastard Executioner is already being thematically compared to SOA, but since the titular character wields a scythe as his weapon of choice, one can only guess where he will be sticking it.
Amid brutality, there will be emotional depth and strong female characters. Oddly enough for a guy whose writing focuses on primal nature, outlaw living, and What It Means To Be A Man, Sutter excels at writing women and powerful emotional beats. Sons of Anarchy had one of TV's most shockingly sensitive portrayals of a relationship between a swaggering uber-masculine biker and a non-op trans woman. It even got a seal of approval from both Reddit and Laverne Cox.
Like Sons of Anarchy, Bastard Executioner's world will be brutal, but the show won't be an emotionally empty gorefest. And though female characters may be few, they won't be background wallpaper.
There will be revenge. Lots of revenge. The show's synopsis reads, "a warrior knight in King Edward The Third's charge is broken by the ravages of war and vows to lay down his sword. But when that violence finds him again, he is forced to pick up the bloodiest sword of all." Ostensibly, he's not too happy about that.
Sutter has already demonstrated his taste for revenge storylines. Warning for the following clip: contains the previously mentioned snow-globe braining.
There will be asses. Donkeys, since it's the 1300s, but also human asses. Sons of Anarchy had its hero drop trou so often that parents organizations regularly freaked out and it became almost a joke, with everyone from Jezebel to Conan O'Brien reflecting on it as the series concluded. So for people like Natalie Dormer, who think shows like Game of Thrones need to be more equal-opportunity with nudity, tell your bosses to look to Kurt Sutter.
Despite a dark tone and subject matter, it will have moments of levity. Although Sutter favors gritty narratives about bad men doing bad things, he lets them laugh and have fun sometimes.
So although this doesn't exactly look light and happy, it won't be wallowing in misery.
There will be killer cameos. Sons of Anarchy had truly eclectic and on-point cameos: David Hasselhoff as a porn producer, Courtney Love as a kindergarten teacher, Marilyn Manson as a creepy white supremacist.
It also had the best Stephen King cameo of all time.
Sutter's former leading man, the criminally underrated Charlie Hunnam, has already made it clear he is more than willing to make an appearance. That alone would be a worthwhile guest role, but there are others in the works that are along the lines of Marilyn Manson as a white supremacist: seemingly random, oddly perfect.