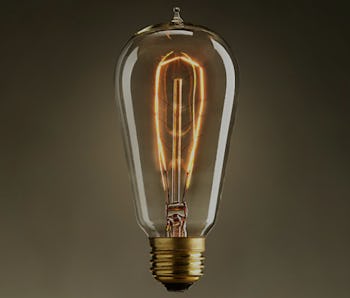 Innovation
These Smart Bulbs Are the Ultimate Easy Home Makeover
Light up your life with these extremely cool bulbs
j
If you, say, "live in a home" or "own a smartphone that can take selfies" (…and you do), then you know that lighting is key. The right amount of light, natural or artificial, can make us feel exponentially better or worse. Studies even show the psychological effects light has on us depending on the intensity of illumination. Living in an environment with consistent ambient lighting can encourage productivity, alleviate depressive symptoms, and keep the body's natural circadian rhythm aligned.
Yet like most smart home technologies, it seems complicated and pricey. That's why we compiled some great, user-friendly light bulbs that are app-controlled for the optimal ambiance.
Enjoy optimal and adjustable lighting is no longer a rare privilege that runs a costly installation.
A top-ranked pack of 4 bulbs, The Philips Hue White is also a "good kit for those who are just starting to explore the world of smart devices.'' It is controlled via Smartphone app, which allows you to dim and adjust the lights without any installation. An Amazon Alexa compatible device, you can set alarms and other life schedules through voice commands. It does require the Philips Hue bridge, which is basically the central operating system that allows you to connect your smart devices to your smart lights. The perfect stepping stone.
Our favorite cost-efficient bulb, the LIFX Mini White E26 connects to the Wifi for ultimate control when you're home or away. LIFX has a smartphone app and is also compatible with Apple HomeKit, Amazon Alexa, Google Home, and Microsoft Cortana. Easy installation, luminous ambiance, at only $25? Sold.
For the artistic techie, behold the Philips Hue White and Color Ambiance. This comprehensive starter kit comes with 16 million luminous colors and whites, synchronization with a bevy of different multimedia devices, geofencing, and is compatible with all of the biggest smart home controls (think Amazon Alexa, Google Assistant, Bosch Smart Home, etc.). Bonus: it comes with a free Philips Bridge device and free Eve energy monitor, for optimal energy monitoring while you lie back and watch the light show.