The who, what, when, and why you've possibly wanted to know.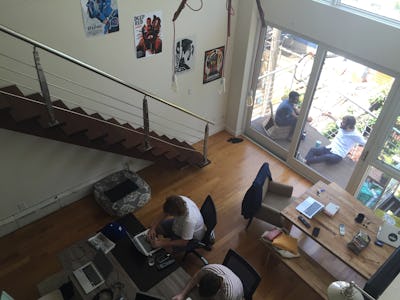 What Is Inverse?
Scroll through our publication and you'll find stories about neurology research next to criticism of Fetty Wap and reports into the future of genetically modified pumpkins. The topics we cover run the gamut, but our approach does not. We treat the events of the present as evidence we can use to form a not at all unified vision of the future. Our writers use our five verticals — entertainment, science, innovation, culture, and mind & body — to chase the topics that interest them down a rabbit hole.
We take a scientific approach to analyzing culture and a cultural approach to talking about science. Since our launch in early August, we've endeavored to analyze the world thoroughly — if not consistently. Our aim is to better understand tomorrow by examining today. And if you're into that sort of broad statement, you can check out our mission statement here.
Who/Where Is Inverse?
We have offices in San Francisco and Brooklyn and writers posted around the country.
Dave, our CEO, along with the majority of our product and engineering team — Winton, Kameron, John, and Steve — work out of the Flatiron Building in San Francisco. We also have Michael working from Germany, which allows us to have round-the-clock operations. Together, these guys constantly tend to and develop the technology behind the sleek and speedy Inverse. Meanwhile, on the East Coast, we have the editorial staff and a bevy of writers. The editorial team includes Andrew, Sam, Corban, Nick, and myself, Hannah Margaret.
We will go into more detail about the people behind Inverse in the coming blog posts.
Why Another Publication?
Men's publications have historically leaned on the idea that manhood is an achievable goal, not a default. Different brands have pushed different strategies to achieve their favored form of archetypal machismo. We're not into that at all. We work to publish stories capable of changing our readers' worldviews, but we don't strive to homogenize.
Instead, we offer a multitude of intentionally inconsistent opinions and stories about unexpected subjects. We also endeavor to exist between the internet poles of extreme negativity and willful naivete. We ask questions. We try to answer those questions. We argue about those answers. It's pretty much that simple.
What About the Tech?
Having learned some hard lessons working at other online publications, our engineering team deemed it necessary to build our CMS from scratch. They set out to build the fastest site on the internet.
Like our editorial strategy, our technology choices are forward looking. Rather than going with Ruby on Rails, the team chose the Elixir framework, which is relatively new but has impressive potential. When selecting a Javascript library for our front-end, we looked at great choices — Ember and Facebook's React, for example — but we zeroed in on Mithril, a brand new library with little traction but super-impressive performance benchmarks. Liking what we saw in Mithril, we took it a step further by writing our own framework, Paradiso, based on what we liked in Mithril. No technology stack can be fully future-proof, but we've done our best to build Inverse with a component-based architecture that will allow us to scale up and swap out outdated elements for the latest and greatest as the web continues to evolve.
As individuals, as a company, and as a website, we are in pursuit of progress. Our writers will incessantly scan the horizon for whatever might come your way. Our engineers will build you the fastest, most flawless website your phone or browser has ever loaded. And our reach will be gargantuan, because ultimately, Inverse is, and will continue to be, an unprecedented publication aimed at tackling the future together.