5 Men's Watches on Sale in Time for Father's Day
Don't forget about Dad this year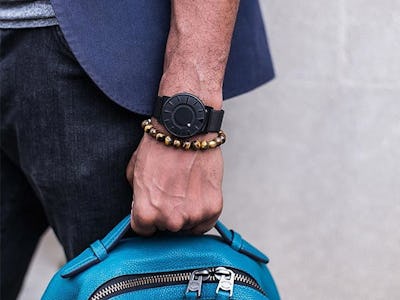 StackCommerce
Father's Day is just around the corner. If you're planning on getting him a seriously good gift, you should get a head start and buy something now before prices go up. Here are five watches that any father would love.
MSRP: $1000
Sale Price: $109.99
Discount: 89%
Made with stylish leather, this watch is perfect for business and casual settings alike. It takes you from the office to drinks, and is even built for adventure—with a scratch-resistant face and 10 ATM water resistance, there are very few things out there that could damage this watch.
MSRP: $240
Sale Price: $99
Discount: 58%
If your dad likes a more modern-looking timepiece, these Europium watches should fit the bill. They use two magnetic balls that travel around the face of the watch to tell the time, so they don't look like an ordinary watch. The glossy stainless steel polish gives them a premium finish as well.
MSRP: $199
Sale Price: $39.99
Discount: 79%
You can also show dad you care by getting him a fitness watch like these. They include a pedometer, calorie calculator, distance meter, and other metrics to help dad stay in shape. If you insert a SIM card into these, you can also send texts and make calls—just like an Apple Watch, but at a much better price.
MSRP: $193.99
Sale Price: $29.99
Discount: 84%
If your dad is an adrenaline junkie, a regular fitness watch probably won't cut it. This one is part fitness tracker and part training companion, so you can set goals, and the watch will show you exercises you need to do and the progress you make on them. It's also waterproof. This kind of gift is perfect for a hobbyist yogi, cycler, swimmer, or runner.
MSRP: $495
Sale Price: $109.99
Discount: 77%
For the design-savvy dad, these master craftsman watches are made from high-quality Swiss and Japanese components, diamonds, and ceramic. It's the epitome of luxury and style at a great price point. Plus, you won't have to worry about damaging this watch because it has a stainless steel case and 3 ATM water resistance rating.
Like these deals? Check out Vault—you'll get four premium tools, including NordVPN and Dashlane, to supercharge your online security. Enter code VAULTONE to try it out for just $1!