Get an Indoor Grill for Less Than $15
Take Your Grilling Indoors & Prep Healthy, Delicious Food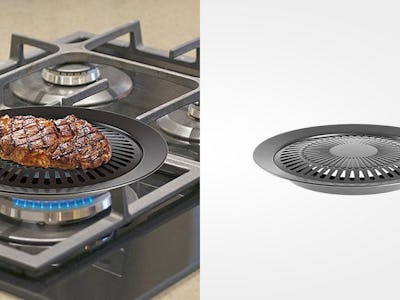 StackCommerce
The Details:
Smokeless grill goes on top of your stove
Easy clean-up and dishwasher safe
Drip pan infuses flavor
Why You Want It:
Grilling is fun, but it's also messy and expensive. Most people can't just go out and buy a fancy outdoor grill, but anyone can use the Chef Buddy Smokeless Indoor Stove Top Grill. All you do is place it on your stovetop, fill the drip pan with water or marinade, and toss your meats and veggies on. Then when you're done, you can just stick it in the dishwasher. Talk about convenient.
The Deal:
The Chef Buddy Smokeless Indoor Stove Top Grill costs $21.99. It's on sale today in the Inverse Shop for 40% off if you want to get it for just $13.
Like this deal? Check out Vault — you'll get four premium tools, including NordVPN and Dashlane, to supercharge your online security. Enter code VAULTONE to try it out for just $1!