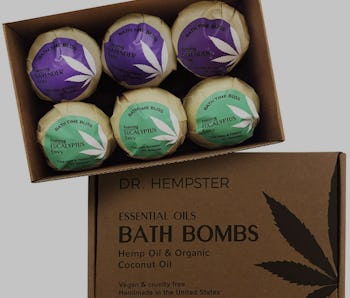 Innovation
4 Hemp Oil Products Worth Trying on Amazon
Check out these hemp oil products for various activities. 
Amazon
Looking to jump into to the hemp oil craze? The popular substance isn't just for ingestion, mind you, and there are several products that have it inside. Still, when it comes to oils of any kind, quality can be suspect, especially if you're buying online. Well, if you're curious about what's out there, we've outlined 4 hemp oil products worth your consideration on Amazon below.
Hempz Original Herbal Body Moisturizer
This particular lotion you may already be familiar with, as it's been around long before the recent rise in interest in hemp/cannabis oil. The body moisturizer has 100% natural hemp seed oil, shea butter, and vitamins A, C, and E. For those wary, the lotion contains zero parabens, gluten or THC, either. So whether you're just looking for a great everyday moisturizer or to make your tattoos pop, this is the one and only hemp oil lotion you need. Oh, and did I mentioned that it smells like straight up candy?
Hemp and Essential oil bath bombs
Hemp oil is used to relax and reduce pain — it's there to make you feel good. So it comes as no surprise that hemp oil bath bombs are a thing. It's kind of brilliant, really. This particular gift set is a combination of hemp, coconut, and essential oils. It's completely vegan, which can help put your mind at ease that literally nothing was harmed in it's creation. Available in two scents, eucalyptus to bring you to life and lavender to sooth and relax you.
Hemp Massage Oil
If you want to reap the full benefits of hemp oil externally, why nose douse yourself in it? That's exactly what this massage oil is for. Filled with cold-pressed hemp oil, avocado oil, grape seed oil, jojoba oil and meadowfoam seed oil, this is the full treatment. Void of any harsh chemicals and cruelty-free, this is a great product from end to end. Tell your masseuse to throw away whatever they're using on your and hand them a bottle of this.
Hemp Oil Lube
If there are bath bombs and massage oils using hemp oil, someone was going to make a lube using it. For the adventurous, a bottle of Liquid Sex Xtreme may be in order. This lube not only has hemp seed oil in it, but a few other, more lively ingredients as well, like ginseng root extract. Said to improve sensitivity and increase arousal, you may want to take a look at the full list of the ingredients before diving in, so to speak.