3 Excellent White Noise Sound Machines on Amazon That Are on Sale Right Now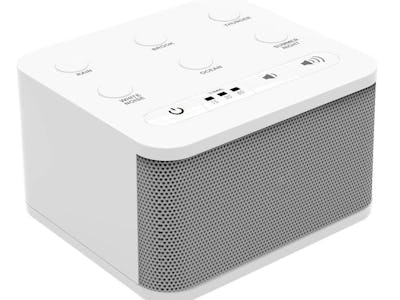 Amazon
A good night's rest can largely depend on your environment. You can do everything within your power to make your room a peaceful place, but unfortunately, external influences (neighboring raccoons, trash pick-up, screaming college kids… you name it) can prevent you from actually getting the rest you need. For many, the solution is simple: A sound machine or white nice machine. This little device sits on your nightstand and makes enough neutral noise to drown out the unwanted sound, but its consistent white noise allows you to get to sleep.
The only problem is that they can be expensive. For a machine that provides all the bells and whistles, you can easily spend $100 on a sound machine… but do you really need to? We've rounded up some of the best sound machines that straddle value and price.
Big Red Rooster White Noise Machine
For a device that's supposed to help you go to sleep, a name like Big Red Rooster is a frankly terrible name. However, despite the moniker misstep, this sound machine has a 4-star rating with over 8,500 reviews. The small box offers six peaceful sounds to help you drift off to sleep, including rain, brook, ocean, thunder, white noise, and summer night—these are pretty much all the essential sounds you'd want in a noise machine. You don't really need much else.
Another nifty trick up its sleeve is that the Big Red Rooster can be used on battery power if you don't have a plug nearby.
HoMedics Sound Spa
If you like the features of the Big Red Rooster but are looking for a design that's a touch less stark than a box, the HoMedics Sound Spa sound machine is at your service. The features are pretty identical to the Big Red Rooster, and you can expect the same six sounds available, and it can also be powered by batteries.
The HoMedics Sound Spa is also very popular on Amazon, coming in with a 3.5-star rating from over 9,500 reviews.
AVANTEK White Noise Sound Machine
If you're looking to push your budget up a bit, AVANTEK has a great option that more than doubles the sound options compared to the other two on this list. Coming in with six white noise sounds, eight nature sounds, and six different fan sounds, the value is already apparent with this offering, even if it may be overkill for most sleepers. With the Avantek White Noise Sound Machine, however, you can also set a time anywhere in between one and seven hours, and with 30 different volume levels, you have virtually perfect control. One downside is that this particular sound machine doesn't have the options to run off batteries.