This Amazing Piece of Weekender Luggage Is Essential for Any and All Summer Trips
The classic duffel gets a necessary update.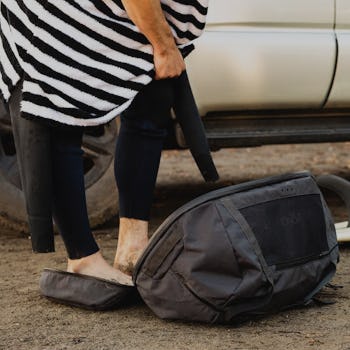 Unsplash / Deanna Ritchie
If you're planning on making the most of the summer weather, you can't travel without good luggage. Well, you can, but it's inevitably a more difficult and less fun travel experience without the right tools. If you've ever traveled with luggage too small, too big, or just lacking in general functionality, you know exactly what I'm talking about.
Something as easy as packing the car for a drive or packing a small carry-on for a quick plane ride becomes extremely annoying if you don't have the right tools for the job. When you hear the word "luggage," you might think of the traditional hardshell wheelie suitcases, but if you're going camping, to the beach, or anywhere that isn't a convenient hotel destination, you might find your hardshell luggage not up to the task and/or way too much for a weekend getaway. So what do you do when you need travel ready luggage options that don't err on the side of too much?
In this case, you opt for a duffel bag. A longstanding weekender, the classic duffel has been a strong option for everyone from gym goers to athletes to campers to beachgoers and everyone in between. And it just got an upgrade. From fan-favorite adventure brand Patagonia comes an multi-functional, go-anywhere Planing Duffel Bag.
Unlike many of the duffel bags that have come before it, the Planing Duffel Bag has an updated lower storage section designed to be a safe and separate place for you to store your shoes, as well as dirty and wet gear, without contaminating your other items. The exterior is constructed of 100% recycled polyester. In addition to being eco-friendly and sustainable, the polyester construction and heavy-duty, waterproof zippers allow for a water and tear-resistant exterior that works hard for you for years to come. The mesh pocket allows you to store things like your wallet, phone and passport for easy, yet safe access. The large interior section allows you to pack as heavy or as light as you need to without having to worry about space.
Need more? The adjustable straps allow you to wear this duffel bag as a backpack when you're packing heavy while the side handles allow you to easily grab and move the bag. Available in sleek, monochromatic Ink Black and Pelican, a refined khaki that pairs with anything.