4 Great Coffees for Making Cold Brew at Home
It's the absolute best for summer.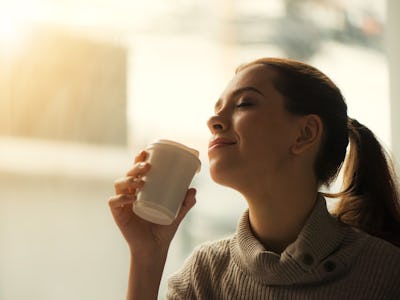 Pexels
For the best cold brew coffee, you can't just throw hot coffee in a mason jar and wait 24 hours. Instead, you need to take into consideration the differences between cold and hot brew coffee: Cold brew lowers the acidity and bitterness of coffee. This is great, but also means that a coffee you find delicious hot might come out with a completely different flavor profile than you're used to when you cold brew it.
We've gathered some of the best cold brew coffee for beginners. If you're just getting into cold brew, or if you're simply looking for something new to try, you can't go wrong with the choices below.
One of the best starter coffees when you're getting into cold brew is Bizzy Organic Cold Brew Coffee Smooth & Sweet Blend. It's a rich coffee that gives a good example of the flavor profile cold brew can provide. It's sweet enough on its own, but it also pairs well with syrups or milk which makes it incredibly versatile.
Bizzy's Smooth & Sweet is also a great coffee if you're already into cold brew but want to prepare some for non-coffee drinkers to try. It's also fairly inexpensive.
Stone Street Colombian gives you a chance to explore some of the more complex flavor profiles that cold brew can offer. It's a very dark roast which when brewed leads to a coffee with a slightly smokey flavor anddark chocolate undertones. This is a coffee that would likely be a bit overwhelming if brewed hot. However, when cold brewed its strong roasted flavor is mellowed significantly which allows the rich background flavors to come forth.
Tiny Footprint Coffee is a blend of Central American Arabica with a spike of Ethiopian. The result is a deep chocolatey flavor that is tinged with a bit of the fruity bitterness that is a hallmark of Ethiopian coffee.
Most of the time I would recommend a single-origin for cold brew. The process concentrates the flavor of coffee to the point where a blend can result in discordant flavors. However, the Tiny Footprint Cold Brew Elixir works well, and I'd recommend it to anyone who wants a coffee that is more fruity and floral in nature.
Coffee with chicory is not something I would have thought would be a good cold brew, but I was wrong. Cafe Du Monde is one of the best coffee and chicory blends on the market, and serves equally well whether you want to go with a hot or cold brew.
When cold brewing Cafe Du Monde I noticed that the coffee taste was more pronounced. The flavor is reminiscent of Vietnamese-style coffee and is a great treat for anyone looking for a very unique cold brew.