These Are the 4 Best Pillows You Can Buy Online
Sleeping on these bad boys is like nodding off on a puffy cloud.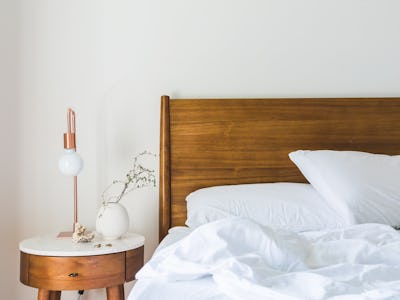 Pexels
You spend a third of your life in bed, but how often do you think of what the best pillow is for you? You constantly see commercials for mattresses, but supporting your most important body part, your head, is usually an afterthought.
However, that stiff neck and aching back might not be the fault of your mattress at all. Your tossing and turning might be due to a terrible pillow. Fortunately, we've put together a list of the best pillows you can buy. Regardless of whether you're a back, side, or stomach sleeper, you should be able to find a product here that fits your needs.
The Coop Home Goods Eden Cross-Cut Memory Foam Pillow is consistently one of the highest rated pillows on Amazon. The secret that pushes this pillow above the competition is that the shredded memory foam is in cross-cut sections that prevent it from clumping together. This means you don't have to worry about all the fill working itself out from under your head while you sleep.
Shredded memory foam pillows are great for people who want a similar fill to traditional cotton-stuffed pillows, but want the benefits of memory foam. The Coop Home Goods Eden runs a bit on the expensive side, but there's a lot less risk that you'll find it uncomfortable because it's adjustable. Unlike many memory foam pillows, the Eden isn't sealed and allows you to remove or add fill as desired.
It's likely you've never even heard of a buckwheat hull pillow. They're not common in the West, but if regular pillows aren't doing it for you, buckwheat may be the ticket. The ComfySleep buckwheat hull pillow is one of the highest rated of its type you can find, and is surprisingly comfortable.
The ComfySleep pillow allows you to add or remove buckwheat hulls at will so you can get the perfect amount of fill. Sleeping on one feels kind of like a beanbag, and it's got a solid, yet yielding feel to it. The biggest issue with this pillow is that the hulls make noise as they grind against one another, so if your partner is sensitive to sound it may be a no go.
Some people swear by down pillows and can't sleep without them. Unfortunately, there are plenty of folks who are allergic to geese who may never know that a down pillow is the one for them. Fortunately the eLuxurySupply Dacron Memorelle is stuffed with a down alternative that lets everyone enjoy the softest type of pillow.
The eLuxurySupply Dacron Memorelle comes in three different sizes: standard, queen and king. It's extremely affordable which is great news as quality down pillows are traditionally quite expensive.
Pillows have a finite lifespan. They usually come with complex cleaning instructions and before you know it your favorite pillow will succumb to a bad spill or simple accumulation of head crud. If you find yourself constantly running through pillows, you might want to try the Snuggle-Pedic Ultra-Luxury Bamboo Shredded Memory Foam Pillow.
This pillow is fully machine washable. This makes it much easier to clean and care for, because let's face it, even washing the cover on your pillow every few days doesn't keep the core squeaky clean. With the Snuggle-Pedic you can get that cool memory foam feel without all the hassles that usually come with caring for a memory foam pillow.