Please Meet the Panwaffle, the Ultimate Weekend Breakfast
This little genius solves one of your eternal questions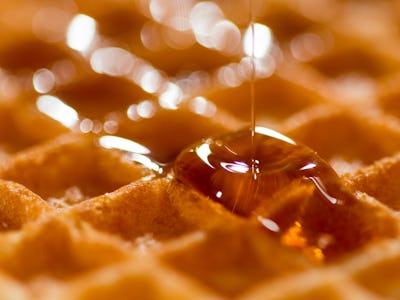 Unsplash / nabil boukala
"Who wants waffles?"
You ask the question in all seriousness, willing to make waffles for your ungrateful crew. Then the bickering starts.
"Can we have pancakes?" The shy one queries, setting it off.
"Infidel! The man said 'waffles!' I will not hear of your of your deception. We will have waffles!"
When the spinning ball of fighting stops to take a breath, show them the Panwaffle.
Heat it up, pour in the batter. It locks open at 90 degrees while you cook. Close it to make a waffle inside of a pancake.
It's sports all the ease of making pancakes. But it also makes a waffle. (Sort of.)
The handles don't get hot. And unlike every waffle iron you have ever known, it's easy to clean. Just put it in the dishwasher.
It doesn't need it's own cupboard, either. It's just an 8 1/2" diameter pan.