4 Easy Upgrades You Can Make to Your Kitchen This Spring
These are some serious must-haves.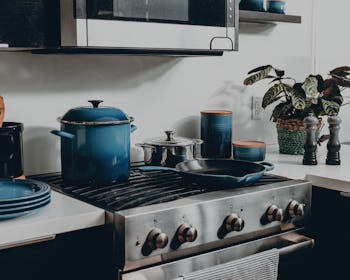 Unsplash / Dane Deaner
Are you one of those people who avoids the kitchen like the plague—or are you someone who loves to spend time there (it's always one or the other, isn't it)? If the kitchen one of your favorite places in your home, and you love to make tasty creations, then you're probably the type that invests in your cookware. And that means that from time to time, you'll need to step up your game with a few choice appliances or cooking accessories that will take you from sous chef to iron chef. With that in mind, check out these potential upgrade options.
If you love to cook and have fun in the kitchen, then you're going to need the right tools. Trying to manage prep work or even serve food with a dull knife can lead to disaster. Forget about constantly replacing knives with this rare steel knife from Japan. The Complete Bunka Knife Kit comes complete with the Bunka knife, sheath, and sharpening kit. What makes this knife so unique is the ZDP-189 steel. The metal is made by only a few world-renowned blacksmiths and is superior to traditional blades. In addition to being stronger than standard knives, the Bunka knife is also corrosive-resistant. With these impressive stats, all those other knives will collect dust in their drawers.
There's nothing worse than getting home after a long day at work and realizing that you forgot to move the meat from your freezer to the fridge. That throws off your entire plans and usually means it's time for takeout. But what if you could instantly thaw that meat without the risk of overcooking it like microwave defrost settings? The Deluxe Meat Thawing Board can fully thaw a piece of frozen meat within 10 minutes. And that means you can still enjoy a freshly prepared homemade meal without the risk of meat contamination that comes from leaving foods on your counter to thaw. The board works without electricity or batteries, making it ultra convenient.
Serious cooks will usually tell you that nothing compares to the flavors and consistency of cooking that comes with using cast iron pans or skillets. Cast iron continues to absorb flavors as you use it, making it the perfectly seasoned tool. This Barebones 12" Cast Iron Set is a three-piece combination that comes with a 12-inch skillet and dutch oven, an interchangeable lid, and a trivet to rest them after you remove them from the stove or oven. Create everything from perfect cornbread to sumptuous jambalaya in this pre-seasoned cookware. And the nested design means that your cast iron set won't take up excess space in your kitchen.
So you've got the pans, the thawing board and even a knife that can't be beaten. Now you need to get the rest of your accessories up to par. The Iconics—Exclusive is a 10-piece set that features all the essential tools you'll need for everyday cooking. A sleek design pairs well with the blue-gray handles for kitchen accessories that are as attractive as they are functional. The set includes three knives (four-inch, six-inch serrated, and eight-inch), wood spoon, metal spoon, air whisk, slotted spatula, slotted spoon, tongs, and a base tool stand for easy storage.