White Noise Machines That Are Worth the Hype
These white noise machines are definitely something to write home about.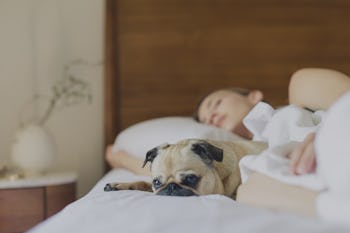 tk
There are those of us who have a multitude of issues getting to sleep when it's so quiet you could hear a pin drop. Sometimes, it's just easier to snooze when you've got something making a modicum of noise in the background.
That's where this selection of white noise makers come in. When you don't have the space (or desire) to leave a fan running all night, they're lifesavers. Offering a wide variety of different noises and levels of space-filling ambience, these five white noise machines have everything you're looking for in one of these bad boys and more.
If you're looking for something to help you make your space even more chill than usual, or just a simple way to get more shut-eye, these are some of the best options out there. 
1. Snooz White Noise Sound Machine
The Snooz White Noise Sound Machine is an attractive and affordable model that has 10 volume settings for its non-looping fan noise from a real air. It's great for traveling, and even comes with a special companion app for your phone or tablet. The app provides a remote control, lets you program the device for automatic on/off scheduling, a night light, and even nursery calibration to help ensure your baby's ears are nice and protected as they fall into a deep slumber thanks to the machine's masking of sound.
2. LectroFan High Fidelity White Noise Machine
If a fan just isn't in the cards for your room (or even the hotel you're in), the LectroFan is your next best bet. It includes ten different fans sounds and ambient noise variations, including pink noise, brown noise, and white noise to help calm you and let ambient fan "fuzz" wash over you. It's small, portable, and features a volume control with a timer that you can set and forget as you drift off to sleep. Plus, its space-saving design means you still have space on your night table for other, more important things. Its stark white design is quite attractive as well.
The MomMed White Noise Machine is small, discreet, and powerful. It doesn't really look like a noise-making machine, either, but it ticks all the important boxes you need. As with many other machines it doesn't feature any looping sound, and can be used in the bedroom or office, featuring an adjustable fan that produces the sound. It even include a special touch panel with which you can alter the volume and sound coming from the device. It's appropriate to use just about anywhere, and it's sold at a price that you an afford without breaking the bank. Whether you need inner peace or just want some help dozing off, this is a great choice.
This unique white noise maker looks a lot more like a traditional fan with a special blade design that actually uses a real fan instead of using recordings. You can get the volume up to a whopping 85 db, which means it should have no issue when it comes to masking sounds in your environment when you're falling asleep, trying to get work done, or doing any sort of activity that begs silence or ambient noise. It also features a timer with three options, which you can set up to 60 minutes so you can get settled in and enjoy a peaceful, restful slumber. Plus, it looks cool sitting on your nightstand!
5. Pure Enrichment Wave Baby Premium Soothing Sound Machine
This cool mint green sound machine features a variety of different noises that are perfect not only for you, but your baby. It features 6 different types of noises with no looping or breaks, a timer with three options, and an attractive shell to house it all in. It might be "technically" for babies, but you'll find yourself stealing it away time and time again for some of the most peaceful nights you've ever had.