Protect Your PC With This All-in-One Antivirus App
Stop Ransomware, Data Leakage, Viruses, And More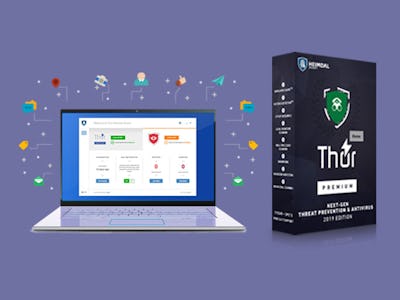 StackCommerce
The Details:
Next-generation threat prevention and antivirus software in a single, streamlined package
State-of-the-art security parameters that protect against everything from spyware to malware and beyond
Seamless installation and integration with all of your preexisting apps and platforms
Why You Want It:
Hackers are becoming increasingly adept at infiltrating your network connections and stealing everything from your browsing history to your credit card information, and only a supremely powerful and comprehensive antivirus application like Heimdal Thor Premium is going to stand in their way.
The Deal:
Offering the best PC protection on the market, Heimdal Thor Premium Home Antivirus is currently available for 30% off its usual price at just $69.95 for a limited time.
Like this deal? Check out Vault — you'll get four premium tools, including NordVPN and Dashlane, to supercharge your online security. Enter code VAULTONE to try it out for just $1!