Clean Your Mouth With 40,000 Brush Strokes per Minute
Get A Dentist-Recommended Electric Toothbrush For 20% Off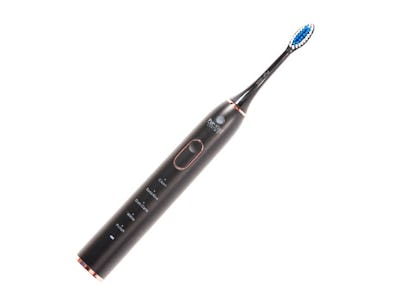 StackCommerce
The Details:
High-powered electric toothbrush at a great discount
Contoured bristles and soft-grip handle for comfortable brush experience
40,000 brush strokes per minute
2-minute auto-timer helps you meet dentist-recommended brushing time
4 brushing modes: clean, soft, whiten, and massage
Lasts 6 to 12 months on a single charge
Includes 10x plaque removal premium brush head
Why You Want It: We all want to have prettier teeth and we all desperately want the dentist to be proud of us. That's why it's worth investing in a toothbrush that goes beyond the standard manual brush. The Pur Hydro Clean Sonic Toothbrush features a variety of settings to deep clean the most stubborn plaque, gently whiten your teeth, and stimulate your gums. Delivering up to 40,000 brush strokes per minute, it's the kind of tool that will make your mouth very, very happy. (And impressive.)
The Deal: Electric toothbrushes tend to run about $100, and this one is no exception. However, you can pick it up in the Inverse Shop today for 20% off at just $79.99.