This Laser Distance Measure Gives Quick & Easy Measurements Anywhere
Ditch the measuring tape and take a 21st-century approach to getting accurate measurements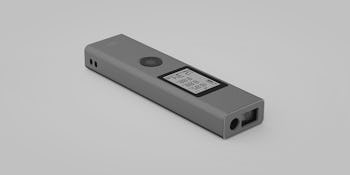 StackCommerce
The Details
Gives accurate measurements wherever and whenever you need them
Measures up to 131 feet with accuracy up to 0.08 inches
Made from one-piece aluminum-magnesium alloy casing
Its design won the 19th German IF Design Award
Is perfect for home decoration, office layout & construction measurement
Why You Want It
We don't all have the mad DIY skills those home makeover pros flaunt on TV, but that's no excuse to have furniture and picture frames asymmetrically taking up space in your home. This Laser Distance Measurer lets you ditch the clunky measuring tape and get accurate measurements wherever and whenever you need them. It measures up to 131 feet with an accuracy of up to 0.08 inches, and its pocket-sized design makes it a dream to use out, about, and in cramped spaces.
The Deal
The Laser Distance Measurer would usually run you a hefty $40, but this Memorial Day weekend, you can save an extra 15% on its $29.99 sale price when you plug in the WEEKEND15 coupon code at checkout.
Like this deal? Check out Vault — you'll get four premium tools, including NordVPN and Dashlane, to supercharge your online security. Enter code VAULTONE to try it out for just $1!
Inverse may receive a portion of sales from the post above, which was created independently from Inverse's editorial and advertising team.