8 Essential Smart Home Items Every House Needs
Live like it's the future! Talk to your house, automate the lights and doors, never get up from the couch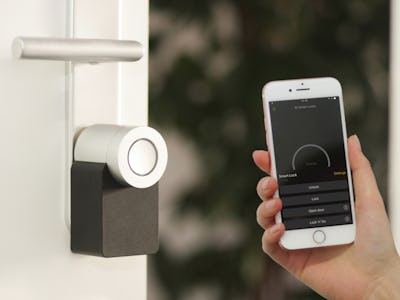 Unsplash / Sebastian Scholz
Everything you dreamed about when watching science fiction is now possible. Well, there is no holodeck (yet!) and they can't implant a vacation in your brain. Also it's not as seamless and invisible. But it's possible.
You can have doors open — or unlock anyway — when you walk up to them. You can ask the computer to turn on the lights, open the garage door, create a mood, and much more.
You just have to invest a little money and find someone from engineering to set it all up for you. Actually most of it is so easy that a resourceful geek such as yourself can do it in a few minutes. But if you pretend to call someone from engineering, it will be more fun.
Here are the essentials, the must haves, and the ones you want.
You have to start with a brain. Also called a hub. The Amazon Echo Dot is such a hub. It's one of the easiest to use, cheapest, and most compatible with other smart devices on the market.
Also? The default 'wake word' for Echo is Alexa. But you can change that to "Computer" (She does understand you if you use a mock Jean-Luc Picard accent. We tested that.) So you can live out your Star Trek fantasies.
The more expensive Echo is also fine. But if you have a speaker or speaker system of your own (or that you want to buy), you can save money and just get the Echo Dot. The only difference is the bigger Echo has a better speaker.
If you want doors that unlock when you walk up to them, this is your smart lock. Install it, connect it to your network and phone, and it knows you. (It recognizes your phone.) You don't have to give up your keys, though. This attaches to your existing dead bolt. But now the doors unlock when you arrive and lock when you leave.
Get the Wi-Fi bridge and you can say (to the Echo Dot) "Computer! Lock the doors!"
You have fallen into the grip of your couch. You can't get up. But the lights! They are so bright! Just ask Alexa to dim them, turn them off, or whatever you need.
But first you need smart light bulbs. This pack of Philips Hue in a 60 watt-equivalent LED are perfect. They will likely work with whatever hub you have. (Or you can get the Philips Hue hub.) They are great bulbs. And they will last years.
You drive away from your house in the morning, coffee in cup holder and destination plugged into your GPS. It's not until you have been sitting in traffic for 25 minutes that the coffee kicks in and you start to wonder if you closed the garage door.
What to do?
Old way: Call a neighbor or turn around and drive home. Failing that, let scoundrels steal all your sporting equipment and power tools.
New way: Open the MyQ app on your phone and check. Close the door if you left it open.
The new way is better, right? This seems a small price to pay.
This little speaker doesn't look like much but it is the original — and still the best wireless speaker system out there. This Sonos Play 1 works by itself or in combination with other Sonos speakers. Or just get a handful of these and scatter them around the house. Super easy.
Connect it to the Echo and say, "Computer! Play Yacht rock all over the house!" She will and all the speakers will be in sync.
Don't ever program a thermostat again. Just live with The Nest. When you feel warm, turn up the AC by spinning the dial. When you're cold, turn up the heat. Eventually it will learn your habits and you won't have to do a thing. Or you can connect it to your Echo and say, "Alexa, turn the temperature up two degrees."
You will save money because your AC won't run when you aren't there. And everything will just be easier. It comes in 5 colors to match your smart house.
Your home isn't smart if you have to get out of bed and go downstairs to turn off a light you forgot. That's dumb. If you replace your current light switches with these smart ones and connect them to Alexa, you can just say, "Alexa turn out the hall light." (Or whatever you have named the light you forgot.) Much smarter.
These replace your wall switch and require some wiring. If you aren't the kind of nerd who can do wiring, a wall switch is an easy first project. Or ask someone who knows what they are doing.
Got a lamp or other dumb appliance that you'd like to turn on and off with your voice? Plug it into a smart wall switch, like this one from Amazon, and connect the switch to Alexa. Super easy. Warning though: Once you start, you will move through your home like a buzz saw through butter switching all things that plug in from dumb to smart.
There are a few things that, unfortunately, don't work well: Coffee pots that require you to push a switch after you plug it in and electric blankets with a shut-off sensor that won't turn the blanket on when they lose an regain power. (That's most of them since this is a fire safety feature.)
But for everything else you will be ordering Alexa around all the day long.