This Is the Best and Strangest Lamp You Can Get for Your Living Room
You've probably never seen a lamp like it.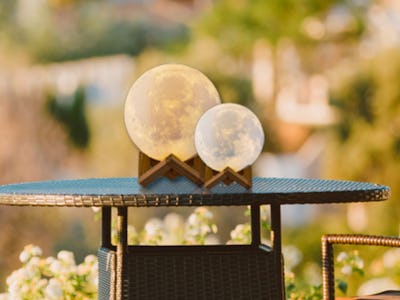 The Original Moon Lamp
If you're looking to add an item to your living room that will set the mood, this moon lamp is the way to go. Whether you live in a big city, or simply don't have access to the open sky at night, you can bring the feeling of the full moon into your living room with The Original Moon Lamp.
Lighting can completely change the feeling of a space, and the dim light of this lamp makes it perfect for winding down during the evenings or setting the mood. You'll find that there are tons of different variations of this really cool lamp. The classic example (above) comes in 7 different sizes, from 3 inches in diameter, to 9 inches, which is about the difference between a tennis ball and a volleyball. The price for the original lamp ranges from $26.99 to $54.99. You can adjust the brightness on each lamp as well as the tone — either warm or white. The lamp is set on a wooden stand is wireless (it recharges with a USB charging cable, which is included) This way, you can set it on your coffee table or on a side table without tripping over any wires.
There are also a bunch of other options for this moon lamp. If you choose The Original 16 Colors Moon Lamp™, for $10 more, you'll be able to choose between a red, purple or blue glow in your room, as well as the original colors, using a remote. Another option is the levitating lamp, which is held up with magnetic levitation and can rotate. These come in one size — 4 inches in diameter — and are $129.99. Honestly, this is one of the coolest options. If you have a light fixture on your ceiling, The Original Hanging Moon Lamp™ can be the perfect addition to your space. All of these lamps are made from 3D printing technology with NASA satellite images as a reference to recreate the moon's surface as closely as possible.
These lamps are unique and practical enough, but can also fit pretty much any space, making them a perfect gift for a family member or a friend. Also use INVERSE10 at checkout for an additional discount.