The One Item Your Living Room Is Probably Missing
A rug can completely change the feel of your living room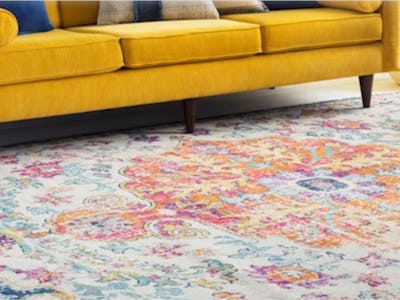 Wovenly Rugs
A beautiful rug can completely change the entire feel of any interior space, from warm and inviting to modern and sophisticated. You don't need to spend thousands of dollars on a Persian rug just to upgrade your living room. Wovenly, an online rug company, sells every style, shape and size rug you could possibly imagine with affordable prices.
There are endless options to choose from on Wovenly, and you can look by style, by room, or by color (scroll to the bottom of their website for that feature). They have modern, vintage, Persian and Moroccan, as well as Southwestern styles, in addition to many others. And if you're looking for a rug for your living room and can't figure out what would be appropriate for your space, Wovenly has a category just for that0.
From bold and striking to soft and serene, you're sure to find something for you on this site. There are beautiful modern colors like the Contradanse: Contemporary Ikat Area Rug and traditional rugs like the Sohail rug which would compliment any space, even one with a contemporary look.
One of the best things about Wovenly is that they do free returns. You might be thinking, so does every other company on the internet. But you'd be surprised when it comes to large and heavy items like an area rug, companies will often leave the return costs to you, and when it's a large and heavy area rug, you can be sure shipping costs will add up to a good percentage of the rug's value. This also lets you try out a rug before committing, because it can be hard to figure out the best one for your space. There are multiple photos for every rug on Wovenly's site, so you'll get a sense of what it looks like inside a space, as well as the texture and colors. But still, sometimes, no amount of visualization will be able to tell you what a rug is really like when it's in your living room. You won't have to risk throwing away money this way.
Wovenly is having a Memorial Day Sale until June 1 with up to 55% off area rugs, and an additional 15% off your order.