These Bluetooth Wireless Speakers Have 5 Star Ratings on Amazon
The stars on these speakers say it all.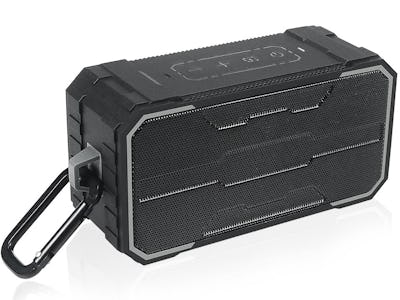 Amazon
Finding a great wireless Bluetooth speaker shouldn't be hard, given that there's a seas-worth of them on Amazon, but it's not. The choices presented offer features that you may not even need, adding to your comparison of other options and further adding to the confusion. Here to quell your worries, we've assembled a short list of wireless Bluetooth speakers on Amazon with 5-star ratings. Set your feature expectations aside, as these speakers are crowd pleasers. Best of all, every item on this list is around $50 or less!
Zamkol Bluetooth Speakers Portable Wireless
First up is the Zamkol Bluetooth wireless speaker. The 360-degree sound that blasts from the two 2 x 12W Full range back to back neodymium drivers gets high marks across the board, given its price point $50. The expected battery life is about 8 hours of continuous playback, but your mileage will vary depending on how loud you have the volume. With an IPX6 Rating, Zamkol's speaker is protected from rain, snow, and other every day spills, but it's not something you want to have taking a dive in your swimming pool.
Jonter Bluetooth Wireless Speaker
No one would blame you if (when) you drew the conclusion that the Jonter Bluetooth wireless speaker looks like a Google Home Mini. The slick-looking speaker may not have the smarts of Google Assistant, but it's still a nifty piece of kit with its fabric and metal construction.
Available in two colors, a 2-year warranty, TF/MicroSD card support, and up to a 15 hour battery life, and this speaker may just become your favorite portable speaker.
Zosam Portable Bluetooth Speaker
This particular speaker is dubbed as an "outdoor" speaker, likely due to its IPX6 rating and anti-drop construction. Of course, this is a portable speaker, so you can take it virtually anyway. While it has nearly zero chance of winning any design awards, the combination of its deep bass and 10W stereo drivers should allow it to pump out some substantial sound. Its 2200mAh battery should allow for up to 10 hours of playback, which could be more or less depending on the volume you're using. You can also pop a Micro SD card into it as well as an AUX in in case you want to play music to the speaker from another device.