6 Products Guaranteed to Help You Get a Great Night's Sleep
These gadgets will help you catch the Zzzs you're seeking.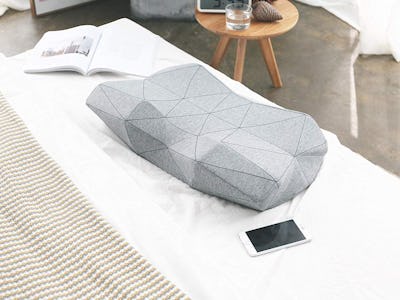 Amazon
There are countless options out there for tracking how well or poorly you sleep, but none of those actually aid you in going to sleep. Luckily, if you sift through long enough, there are quite a few products out there that can help that aren't blackout curtains or chamomile tea — both of which you probably already have if you're reading this.
Below are 6 sleep tech products to help you get a great night's sleep.
Bose Sleep Buds
Yes, Bose created a $250 pair of headphones exclusively for sleeping. When I mean exclusively for sleeping, I mean that you can't play music with them. Crazy. Instead, the buds play soothing music and sounds that you can choose within the Bose Sleep app to drift off to — preferably in an already-quiet area, as the Sleepbuds don't feature any sort of noise canceling, either.
While it's definite overkill, if the Bose Sleepbuds work as expected, they're probably worth $250 in the long run.
Philips Somneo Sleep and Wake-up Light
Philips knows a thing or two about lighting, so it's not terribly surprising to see such a product aimed at sleeping from it. The Somneo Sleep and Wake-up Light has several features to help you drift off to sleep more easily. With a combination of light therapy, light-guided breathing exercises and multiple audio options to get you to sleep, this is more than an ordinary lamp.
Philips Hue Bulbs
If you'd rather forgo the lamp and just revamp the lights in your entire room, Philips Hue should be your first choice. The Hue app will allow you to set specific wind-down routines and gradually begin to dim your lights so you can get ready for bed. That, and all of the other cool uses a set of smart lights can offer you.
Bluetooth Eyemask
If you like to block as much of the world out as you can when you're sleeping and your short on a sensory deprivation tank, this Bluetooth Eye Mask can help get you partially there. Simple and straightforward, the eye mask comes with bluetooth speakers to provide a stereo sound while you try to doze of. It also comes with a microphone so you can take calls, but that seems a bit counterproductive. In either case, the mask is only about $25, so the sting won't hurt much if you don't end up liking them.
White Noise Machine
Usually a white noise machine would be at the top of most lists, simply because they've been around for a long time. Not much has changed in the way of the tiny boxes, but that doesn't change the fact that they're effective.
The Adaptive Sound Techologies LectroFan ia a white noise machine that offers 10 different fan sounds, along with 10 other white noises. With an almost 5-star rating and 5867 reviews, it's definitely a solid choice for a sleep product if you go this route.
PILO Classic Ergonomic Smart Music Pillow
Sometimes having trouble sleeping is a comfort issue. The right pillow can be a major contributing factor of this, which is why the strange-looking Pilo exists. It may seem a bit oddball, but it's an interesting little pillow that backs two binaural speakers inside that allows you to listen to nature-inspired music from the Pilo app. The unique contour design contains 52 multifaceted cuts and claims that this provides an orthopedic and anti-snore effect. At very least, it should be comfortable, given that it's made of memory foam with bamboo charcoal and cotton. There's even a Pilo mini if you're looking for a smaller pillow.