4 Perfectly Priced Coffee Makers You Can Pick Up Today
Brew Your Own and Save Big Bucks at the Coffee Shop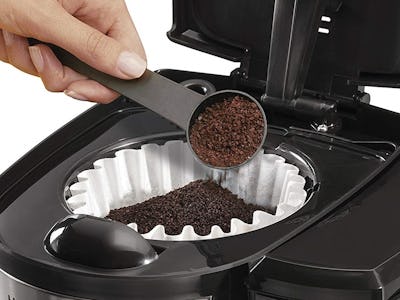 Amazon
If your day doesn't really begin until you've had your first sip of coffee, you need a decent coffee maker in your kitchen. Maybe even something programmable so the coffee is ready when you walk into the kitchen every morning. Seriously, why wait till you can get to the coffee shop when you can buy a decent coffee maker for well under $100?
If you're spending $5 a day on java at the coffee shop, one of these machines will pay for itself in just a couple of weeks.
Percolator Style
Why We Chose it It truly is a classic style coffee maker, percolating water through a basket of coffee grounds for the best brew. The pot has a non-drip spout for easy pouring, a light to show when it's ready, and a reusable filter basket. The base stays cool so no one gets burned and you can put it on any surface.
Compact Model
Why We Chose It The Capresso 5-cup model is the perfect size for a one- or two-coffee-drinker household. This coffee maker is programmable with a 24-hour timer, so you can wake up to fresh coffee. The machine is designed with multiple nozzles to spray water evenly over the coffee grounds, extracting all the flavors thanks to complete saturation. The permanent filter eliminates the need for wasteful disposable filters.
Coffee Dispenser
Why We Chose It The BrewStation makes coffee just like a drip maker but holds it in an internal tank so you don't need a carafe. Just press the bar and it'll dispense one cup at a time. You can set the brewing options to match your tastes, whether that's bold, regular, or a small pot of coffee. You can remove the water tank for easy fill-ups, and the machine is programmable up to 24 hours in advance.
Select-a-Size
Why We Chose It With all your controls up front and center, it's easy to get exactly the brew you want from this coffee maker. Adjustments include a keep-warm time ranging from 30 minutes to two hours, and brew sizes ranging from four and 12 servings. The machine uses a showerhead design to saturate the grounds to get the most flavor out of them. The Sneak-a-Cup feature allows you to pour a cup of coffee while the machine's still brewing.