Domo Genesis's 'Rolling Papers,' 5 Years Later
A look back at Domo Genesis's debut.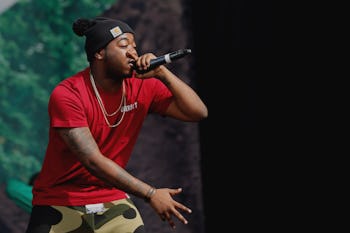 Simone Joyner/Getty Images
Rolling Papers is best known as Wiz Khalifa's 2011 major label debut album. It went gold on the back of triple-platinum single "Black and Yellow." Khalifa is now a superstar, and Rolling Papers is regarded well enough to receive its own Marvel Comics reimagination: he's even planning a sequel.
But seven months earlier, at 4:20 p.m., Domo Genesis released the original Rolling Papers on Odd Future's nascent Tumblr with an introductory message:
Domo Genesis Finally Releases His Album Rolling Papers. Flooded With Bitches, Weed, Females, Marijuana, Sluts, Green Shit And Grocery Stores. Produced By Tyler, The Creator And Left Brain. We've Promised You Fucks This Album For Months, But During That Time We've Put Together A Really Good Fucking Album. So Roll A Joint, Grab A Bitch, Make A Toaster Strutal and Swag This Shit The Fuck Out.
It's easy to overlook Domo's early work. He didn't have Tyler, the Creator or Earl Sweatshirt's shock value. He also didn't really come into his own as a rapper until 2012's The OF Tape Vol. 2. But Rolling Papers excels in mood and production. Tyler produced 10 of its 13 tracks, and it is the best example of his post-N.E.R.D sound. Five years later, Rolling Papers stands out as the most underrated entry in the OF catalog.
In addition to his production, Tyler appeared on two of the mixtape's best tracks: "Rolling Papers" and "Super Market." The former begins with a metronomic bass thump similar to the one on Tyler's own "AssMilk." After Tyler's precise introductory hook — "Cut it short, break it down, couple pounds, roll it up / Add heat, kiss the end, let the colored vapors in" — the blown-out, lo-fi synth serves as the mellow backdrop for Domo's verses.
"Super Market" is more ambitious than the weed-happy title track. With slowly escalating horns, the beat sounds like something from a demented marching band. Tyler and Domo trade threats as they stand in line for munchies at the supermarket. With such a specific, amusing concept, Domo holds his own with the OF leader: "Swift-made switch blades made a big incision in him / Red dot his forehead 'cause Riley's into Hinduism."
Elsewhere, Frank Ocean shows up alongside Hodgy Beats for "SteamRoller," one of the most laid-back tracks on an already zoned-out tape. Domo even takes a break from the weed to indulge in another intoxication on "Drunk" with Mike G. The beat moves in and out, reflecting Domo's questionable consciousness.
Rolling Papers is both low-stakes and a fully-realized mission statement. The mixtape was Domo's first project, released while he was still splitting his time as an Arizona State student. He didn't have much to say, but he was sure about what he wanted to say: He likes weed. Many rappers — Wiz, Devin the Dude, Smoke DZA, and Curren$y to name a few — have built successful careers with the same M.O. It's never going to be played out, though, because there will always be an audience. To find success in the niche, the rapper just needs to find new, creative ways to talk about the same thing over and over again. Rolling Papers was a first step in that direction for Domo.
Domo has long been Odd Future's outlier. While Tyler and Earl got violent and MellowHype made haunting, carnival-like songs, he was happily off in his own world. He was as close to a blank slate as the group got, giving Tyler the opportunity to create his own world from the sidelines with Domo as the focus.