These Tencel Sheets Are the Key to a Better Night's Sleep for Hot Sleepers
Stop sleeping hot and start sleeping better than ever.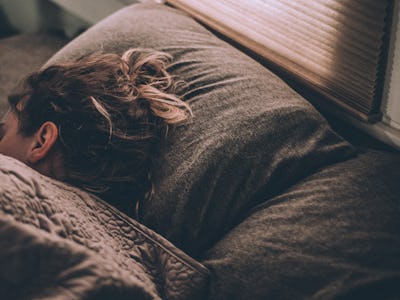 Unsplash / Gregory Pappas
Whether you sleep hot or you sleep next to someone who sleeps hot, you understand the discomfort of heat and bodily dampness. There's no doubt that it gets worse with the warmth of the summer, but for hot sleepers, overheating is a year round concern. What if I told you that suffering wasn't your life's destiny? What if I told you that you aren't alone in your sweaty slumber struggle and that there is a product out there that could solve decades of discomfort as easily as you can make your bed?
From Brooklyn Bedding, you can purchase these ultra-breathable, soft feeling Tencel™ Lyocell Sateen Sheets. Specifically designed for hot sleepers, these sheets will feel like you always hoped your sheets feel like—soft without fleece, smooth without snagging on your rough patches. Made of Tencel Lyocell fibers, Brookyln Bedding seeks to provide bed linens that are gentle on the skin and only get softer with regular washing.
Perfect for any type of sleeper, Brooklyn Bedding's Tencel Sateen Sheets will whisk away moisture better than cotton, allowing your body to breathe freely throughout the night while you stay pleasantly cool and decidedly un-damp.
I am both a hot sleeper and partnered to a hot sleeper, and we sleep in a bedroom with unfortunately stagnant air flow. To spell it out crystal clear for you, we get sweaty throughout the night and prior to owning these sheets, we often found ourseleves glued to each other by the stickiness of poor ventilation. Since we began sleeping on Brookyln Bedding's sateen sheets, we both wake up dry in disbelief that we're sleeping in the same bedroom and that only change required was decent bedding.
Moreover, if ethics and sustainability are important to you, Brooklyn Bedding sets itself apart by sourcing all their materials for their TENCEL™ Lyocell fibers from natural forests and sustainably managed plantations, so you can sleep better knowing you purchased from a company with a conscience.
You deserve a bed that serves you and with that, you need sheets that accommodate your needs. With Brookyln Bedding's incredible sateen sheets, you can wake up with the same luxury comfort as you would in an expensive hotel—only you'll be in your own bed.