New Xbox: Upgrades for Microsoft's Next Controller Have Inspiring Origins
Microsoft earns high marks for inclusive design.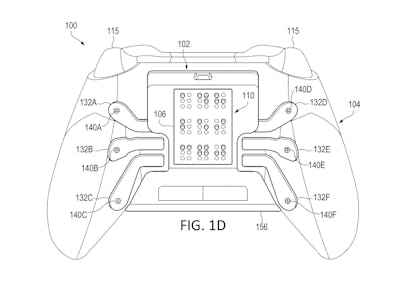 WIPO
Microsoft's upcoming Xbox "Scarlett" consoles are expected to merge cutting-edge gaming hardware with the company's xCloud streaming service. But it also looks like the controller will break new ground as far as accessibility is concerned.
The company has often been on the forefront of introducing hardware aimed at disabled gamers. Its $99 Xbox Adaptive Controller launched in December 2018 and remapped the standard controller into a turntable-style layout, which made all of the games playable on the console for more people. More recently, Microsoft was granted a patent for a device on Thursday that would broaden its accessibility options even further, this time with a feature aimed specifically at the visually impaired.
The functionality has been described in other patent applications, including one filed to the World Intellectual Property Organization on May 2, which suggests it's more than just an experiment. Both patents deal with designs for a controller that integrates a braille panel into an upgraded version of the $150 Xbox Elite Wireless Controller. On its face, it looks like a run-of-the-mill Xbox controller, but on its back it houses an array of constantly-changing braille characters that allows visually-impaired players to read text that appears on screen. Surrounding the braille matrix are six paddles meant for game inputs and texting, which are easily accessed with users' fingers that rest on the back of the device.
Here's a summary of the controller's new features:
"A number of paddles may be arranged on a game controller housing so that a player may engage selected ones of the paddles to enable encoding braille characters using the paddles. This input may be used to control a game, enter text into a chat session or take any other action desired."
As is the case with inclusive design, these small additions aimed at the visually impaired will also make the device function better for everyone. By finding a way to squeeze extra panels onto the controller, this controller would also enable extra game inputs and more intricate configurations of controls.
The Xbox Elite Wireless Controller, Scuf controllers, and many other console joysticks make use of a rear paddle system. It allows for split second inputs that would typically require players to lift their fingers to hit a button or push down on a trigger. Microsoft's patent adds another two paddles compared to the Elite Controller and Scuf, giving users even more button real-estate on the back of the device for quicker in-game combos.
It's unclear exactly when the controller could come to market, but if Microsoft does put it into production it could likely make a debut after the Xbox Scarlett consoles are released in late 2020. It's also possible that the Xbox Adaptive Controller will be backwards compatible with the Scarlett consoles.
Sony announced that its 2016 VR hardware will be compatible with the PlayStation 5, so there's no reason not to believe Microsoft will do the same for a controller that launched a few months ago.
But more than just a new controller, the patent serves as further proof of the merits of inclusive design. By better accommodating the visually impaired, Microsoft will release a controller that's simply better overall. Other hardware makers would do well to follow their example.