6 Products You Need to Help You Get a Perfect Nights Sleep
Sometimes you just need a little help to catch some zzz's.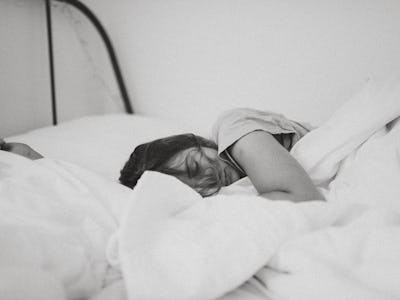 Unsplash
It's no secret that sleep is critical to our physical well being and mental health. Time and again studies continue to document the adverse effects of poor sleeping habits.
Whether you choose to forgo sleep to burn the midnight oil or for whatever reason sleep remains elusive to you, there are considerable long and short term effects. Poor sleep quality has been linked to chronic diseases such as diabetes, high blood pressure, and obesity. Moreover, poor sleep quality, even for one night, can have adverse effects on mood, productivity, and focus.
When a good night's sleep seems just out of reach there are a few products on the market that can be quite beneficial. Here are 6 products you need to help you get a perfect night's sleep.
Alaska Bear Natural Silk Sleep Mask
Studies have shown that exposure to light can suppress melatonin production by at least fifty percent. Considering that melatonin is the hormone that controls your bodies sleep-wake cycle, a decrease in its production cannot be good for catching some zzz's. A good sleeping mask can help you effectively block out the light and get your melatonin production back on track.
Linenspa Memory Foam and Innerspring Hybrid Mattress
The average lifespan of a mattress is approximately eight years so it may be time to switch yours out. Old mattresses can affect your sleep quality and leave you with unwanted aches and pains by sunrise. Rest assured that replacing your old mattress doesn't have to break the bank. For example, the Linen Spa Hybrid Mattress is quite an affordable option with prices starting under $100 for a twin size. But don't let the low price fool you. The Linen Spa mattress is a memory foam, innerspring hybrid that has great ratings on Amazon.
Design Weave All Season Temperature Regulating Blanket
Temperature regulation is one of the keys to getting a good's night's sleep. Ideally, you want to stay cool enough to sleep comfortably and be cozy without overheating. That may sound like a tall order but it's really not with the Design Weave Future Textiles Outlast Woven All-Season Temperature Regulating Blanket. Outlast technology, absorbs and stores heat which is released back to you as your body temperature drops. Bet you never thought sleep would be so high tech, did you?
Olly Restful Sleep Melatonin Gummy
If you find that you can't sleep, perhaps a little herbal intervention can help. Olly Restful Sleep Melatonin Gummies are a delicious blend of herbal extracts that will relax and calm you ensuring that you get some shut-eye.
Lectrofan High Fidelity White Noise Sound Machine
Ambient noise can have a detrimental effect on your sleep and noisy neighbors or your snoring partner can be the worst offenders. A white noise machine can effectively block out environmental noise by layering in nature sounds or other white noise in an even frequency. The Lectrofan white noise machine helps to mask ambient noise offering twenty non-looping fan and white noise sounds that will have you drifting off in no time.
When it comes to getting a good night's sleep don't ever underestimate the power of a good pillow. Finding the right pillow can be the difference between tossing and turning and getting a good night's sleep. Luckily for you, it looks like Casper nailed their pillow game. A plush inner core, supportive outer layer and a billion microfibers all come together to support all sleeping positions. Looks like a good night's sleep in your future no matter which way you turn.