These Bluetooth Speakers Deliver the Best Sound
The best big sound in little speakers.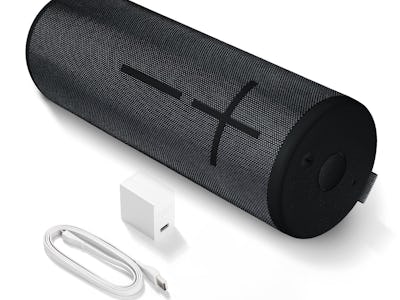 Amazon
Portable Bluetooth speakers are a dime a dozen these days. There are so many options to choose from it can be dizzying. If you're trying to cut through the marketing talk and get down to one of the most important aspects of a speaker, sound quality, we've taken on the task for you.
Below are some of the best sounding Bluetooth speakers
Ultimate Ears Megaboom 3
There are several factors to quality sound from speakers, especially the portable kind. They either under or overcompensate, which only lessens the quality of the audio output. Luckily, the Ultimate Ears Megaboom 3 is confident enough to provide bold 360 degrees sound with intense bass that doesn't take away from the overall experience.
Waterproof and dust tight thanks to its IP67 rating, the Megaboom 3 is perfect for pool-side days. It's also said to be drop-proof, and even if that's 1000% true, it's not something we'd recommend. You can blast your tuned for up to 16 hours on a single charge, which is fairly impressive for the utter force coming out of the speaker.
The Megaboom 3 has it all. Its sound isn't muddled by its intense bass, and it has more features that even its similarly priced competition doesn't. Of course, a $200 portable speaker is a tough pill to swallow, but if you're in the market for a speaker, will probably be worth it.
Bose SoundLink Revolve+
We couldn't write an article about quality sound speakers without mentioning Bose. The SoundLink Revolve+ manages to provide thunderous yet clean sound, which should come as no surprise. Still, coming in at around the size of a coffee can, it's impressive.
The Revolve+ offers 360 degree sound and an IPX4 rating, which is a bit weak if you consider its competition and price point. Still, it delivers a deep sound that won't be reached by some other others. You can also pair the speaker with your smartphone via Bluetooth to enable Google Assistant or Siri and even take calls from it.
Some of the best sound for a portable speaker will cost you a pretty penny, though there's little doubt that it's justified.
Sonos Play:1
Much like Bose, Sonos is also known for creating high-quality audio equipment, and its Play:1 speaker certainly fits the bill. Despite its size, the Play:1 is capable of the deep, rich sounds you'd expect from a Sonos speaker. It's also the cheapest option on this list, in case you're looking to save a few greenbacks.
If you have an Amazon Echo or Echo Dot, it can be paired with the Play:1 for easy voice control from music to smart home control. This is a noticeable departure from the Sonos One speaker, which has Alexa built right in. Another few things of note compared to the other options on the list is that the Play:1 is 1.) It is a Bluetooth speaker, but not a portable one. You'll need to have it plugged in at all times to use it. 2.) The water resistance for the Play:1 is basically non-existent. It's labeled as "humidity resistant" which is certainly better than nothing but shouldn't make you overly confident in its capabilities of withstanding water being splash on it in any way.