5 Ways to Make Sweet Summer Treats
Who needs an ice cream truck? Make your own sorbet, frozen pops, or snow cones.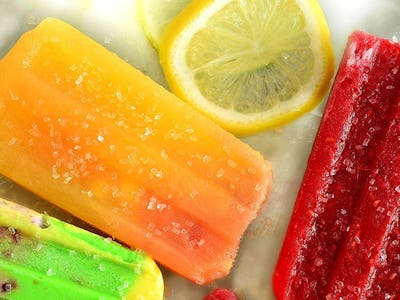 Amazon
When you were a kid, did you ever think it'd be cool to drive the ice cream truck, mainly because you figured you'd have unlimited access to all the treats in the freezer?
How about we leave the truck alone and just concentrate on the frozen goodies. You can make everything the ice cream man sells – from snow cones to smooth, rich ice cream – in your own kitchen. And when you're the ice cream chef, you can make the treats in any flavor combos you want, using your choice of ingredients.
For an even easier summer treat, freeze some popsicles or shave some ice for a snow cone.
Two Quarts of Yum
Why We Chose It The Cuisinart ice cream maker holds two quarts, so you can make plenty of ice cream or sorbet at a time. There's a large ingredient spout so you can add mix-ins, and the freezer bowl is double insulated to keep frozen goodies cold. You can also use the machine to make frozen drinks.
Good for Beginners
/WHY WE CHOSE IT The Nostalgia model ice cream maker looks old-fashioned, but it's equipped with an electric motor that takes all the effort out of churning ice cream or gelato. The machine makes up to four quarts of ice cream and comes with a canister and lid to store the extra in the freezer. You can use Nostalgia brand ice cream mixes with the machine or make ice cream from scratch.
Throw a Snow Cone Party
Why We Chose It The concept is so simple – shaved ice and a little syrup – but it tastes so good on a hot summer afternoon. Even kids can use this Hawaiian Shaved Ice brand machine. If you're particular about the size of your shaved ice, you can adjust the stainless steel blade with a screwdriver to get the texture you want.
Customize Your Popsicles
Why We Chose It When you make your own frozen pops, you can be as adventurous as you want – try freezing yogurt, fruit juice, pudding … or maybe something stronger? You're the boss of the flavors when you own the molds. The Norpro frozen pop maker is BPA-free and the lid is designed to hold the sticks straight while the pops freeze.
If You Need Recipes
Why We Chose it Whether you like classic ice cream flavors or want to explore cutting-edge tastes, this book includes 200 recipes that will open your eyes to new flavors. The Perfect Scoop also includes recipes for sauces, toppings, and mix-ins to take your frozen concoction to the next level.