This Is the Bed Frame Your Messed-Up Back Has Been Craving
Luma Sleep diversifies their bed offerings with the inclusion of these high-tech adjustable bed bases.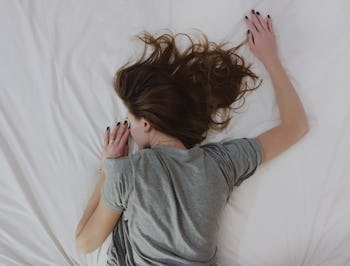 Unsplash / Vladislav Muslakov
It seems like there are a million and one mattress brands online right now and if you've ever clicked an influencer's link out of curosity, chances are you've been inundated with targeted ads ever since. Not all mattresses are created equally and neither are all mattress brands. Luma Sleep seeks to diversify their brand's offerings by not just incorporating traditional box springs and foundations and instead has embarked down the futuristic path to adjustable mattress bases you can control with your smartphone.
The aches and pains you've come to accept as your usual standard of living don't have to exist, but they might not be solved as easily as purchasing a new mattress. Further continuing their commitment to the future of sleep, Luma Sleep seeks to change the way you sleep and not just what you sleep on, so that you can begin taking back your quality life and bidding farewell to years of aches and pains.
Imagine you could sleep however you wanted. Now imagine the possibilities for how you could sleep being opened up to more than just back, side or stomach. Imagine being able to customize your sleep experience all the way down to the exact angle of your feet, neck and head. Imagine being able to adjust your settings as easily as you can reach for your phone. If you've been in denial that the future has arrived, allow Luma Sleep to prove it tenfold.
Luma Sleep offers 3 different kinds of adjustable bed bases. In general, all 3 bed bases come with adjustable legs, head and foot articulation, wireless syncing and full body massage functions. All Luma bed bases are assembled in the USA, contain MicroHook™ technology for a secure mattress at any angle, allow you to simulate zero gravity sleep at the push of a button and can support up to 850 pounds no sweat.
Sounds incredible, right? Sounds like you need an adjustable bed base, right? But how do you decide which one works for you? With Luma Sleep's 3 bed base offerings comes 3 different pricepoints.
Starting with the Simplicity 3.0 Adjustable Bed Base, this ultra-slim 2-inch bed base is made to fit easily within your existing bed frame—so that you can still have the bed look you want without sacrificing ammenties. After a long day, you can climb into bed for a soothing full body massage, while the zero gravity button gives you the feeling of utter weightlessness. The adjustable legs allow you to choose from anywhere between 6 and 10 inches for your preferred bed height.
Next up, the S-Cape 2.0 Adjustable Bed Base is more a piece of furniture than the former. This Foundation-Style base comes complete with real, solid wood legs and Wallhugger Technology so that you're not constantly shimmying your bed to its preferred location. Like all Luma Sleep's adjustable bed bases, the S-Cape comes wave for full body massage possibilities as well as a wireless remote and companion app and under-bed light. Built-in USB ports allow you to charge your phone without navigating the nearest outlet.
And finally, Luma Sleep's most luxurious option, the Prodigy 2.0+ Adjustable Bed Base. Complete with all the offerings of the last 2 bed bases, the Prodigy 2.0+ is compatible with most mattress types, is controllable by both wireless remote and smartphone apps, but it goes further than any of Luma Sleep's other adjustable bed bases. While they all offer full body massage, the Prodigy 2.0+ sets itself apart with the introduction pulse as well as wave and while both of the aforementioned bed bases allow for head and foot articulation, this bed base also allows for a customized pillow tilt. If that wasn't enough, the Prodigy 2.0+ also goes further than any aforementioned option with the inclusion of AC power as well as USB ports, so you can even charge your laptop from bed. Even more so, with the help of your remote, you can set your mattress angle to zero gravity, flat, snore and power-down for whatever your needs are at any given moment.
So, what are you waiting for? Luma Sleep offers adjustable bed bases in Queen, Split King and Twin XL for whatever mattress size you prefer. All bed bases ship free with a 10 year warranty and are 100% USA made for promised quality and workmanship.