Upgrade Your Summer Style With This Perfect Accessory
The perfect sunglasses for those long sunny days outdoors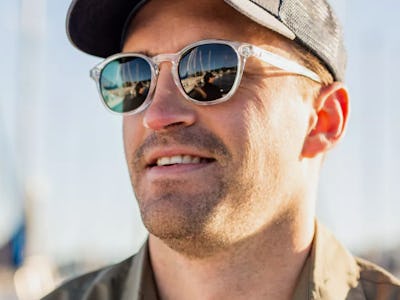 Huckberry
Sunglasses are perhaps the one item whose absence can ruin a perfectly sunny day. You can forget you need them until you're struggling to enjoy a beautiful day because you're squinting and your eyes hurt.
It's hard to find the right sunglasses that are good quality but also the right price, and, in that sense, Huckberry's Sunski Topekas sunglasses might be the perfect pair. If you've ever bought super cheap sunglasses that were useless, or overpriced ones that didn't live up to the cost, you know what we're talking about. The Sunski pair is both affordable and high quality.
Their rounded frames look fashionable, and they are designed to fit your face better. This particular pair comes in two different colors: Matte Tortoise Forest - which is mostly dark brown - and Matte Whiskey Tortoise Ocean (the one in the photo above). They are lightweight, extremely comfortable to wear, and have a traction pad so that they stay on your face, as well as being scratch resistant.
For the price, $68, they are a great deal. But they also sell a variety of shapes and colors which range in price from $58 to $68. With eleven different options, you are sure to find something that suits you.
One of the cool things about these sunglasses is that they are made from recycled plastic, so they are completely sustainable. Sunski created the material called SuperLight from recycled plastic from U.S. landfills, and also come in a cool recycled paper box.
The sunglasses come with a lifetime warranty. Shipping is $5 and returns are free. It's hard to pass up the option to try them.