5 Impossibly Cool Items That Will Make Your Outdoor Space Come to LIFE This Summer
Your outdoor gatherings will take on a new dimension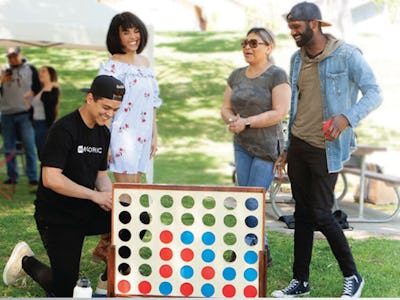 Monoprice 
With summer just around the corner, you're probably itching to finally spend some time outdoors. Whether it's a picnic, outdoor potluck, or simply spending time in the park with friends, this summer you can bring some extra excitement to your outdoor gatherings with amazingly fun outdoor games. Remodeled into life-side for the whole family, these games will take you back to the days when there was nothing more important than winning four-in-a-row. You'll find a list of games that you can play for adults, kids, or with the entire family.
1. Monoprice Pure Outdoor Giant Tumbling Tower
Why We Picked It Your next picnic is going to be a blast with this adult-sized giant tumbling tower. These blocks can be stacked up to 5 feet tall, and comes with a carrying case so you can bring it with you to your next outdoor gathering.
2. Pure Outdoor by Monoprice Giant Four-in-a-Row
Why We Picked It Do you ever miss playing four-in-a-row? With this life size piece, the game doesn't have to be a thing of the past. At 3 feet wide and 2 feet tall, you'll bring an element of novelty to a classic game, and have a lot of fun reminding your friends about this one, too.
3. Elite Sportz Equipment Family Games for Kids and Adults
Why We Picked It You won't need to go to the bowling alley with this family bowling set for your home. It's easy to set up on a dining room table or any outdoor space, takes up almost no storage space, and you'll have hours of fun with your friends or family.
4. Elite Hookey Ring Toss Game
Why We Picked It This game is extremely easy to set up. Just hang it on the wall and you're good to go. Suitable for any age, it's the perfect outdoor family game.
5. Premium Ladder Ball Toss Game
Why We Picked It This ladder toss game is a perfect afternoon activity for outdoors. It can be built differently to suit all levels, from beginner to professional. It's easy to learn and it suitable for both adults and kids.