Live Your Best Cartoon Life With This Amazingly Weird, Eye-Fooling Bag
Wearing a backpack has never been this cool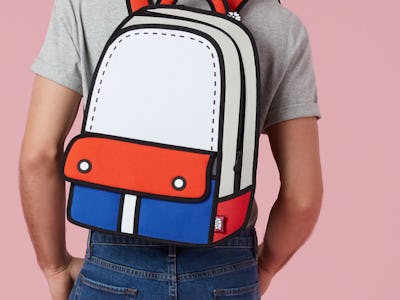 The Met Store
If you're wondering whether the backpack in this photo is real or a image of a backpack, you can be certain that we've wondered the same thing, and that it is, in fact, a real backpack.
Sometimes a little playfulness goes a long way, and this cartoon backpack is sure to make a statement, be a conversation starter, as well as simply be a fun reminder not to take yourself too seriously — even during times you have tons to stuff you'd otherwise rather not carry and it's weighing you down.
It's not easy to find a backpack that is both fun and practical, but this one is the perfect combination of both. It's made from polyester, with a zipper to close and a front pocket, and adjustable straps — basically the same features of a normal everyday backpack. But regular backpacks don't provide you with fun optical illusions as you are dreading the work you're going to have to do on the laptop you're carrying. Or have fun allusions to Pop Art. This backpack is 12 7/8''H x 16 7/8''W x 3/4''D, which means that it's wide enough to fit most laptops.
The company that created this fun, creative, bold piece is JumpFromPaper, an accessory brand from Taipei, which specializes in making real life everyday accessories like this one "jump from paper." They also make wallets and a messenger bag which you can also find on The Met Store's website. The bag costs $120, and if you're a Met member, it's $108. The Met is also happy to return any product up to 6 months after you purchase it, so, if you've been wanting to add a little creativity to your daily routine, or are in need of a new backpack and are tired of the same one from JanSport, there's really no risk in trying this weird and unique option.