Extremely Cool NASA Gear We Can't Live Without
The perfect way to show your love for space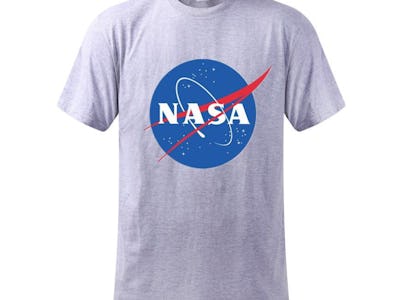 Zapals
If you've dreamed about becoming an astronaut as a kid, then you may have already heard about the rise in popularity of NASA-themed clothing. From shirts to backpacks, brands are coming out with NASA-themed clothing and people are wearing them. And even though you may never make it to outer space, this gear is a great way to celebrate outer space in your everyday mundane life on earth. You'll find tee shirts, backpacks and sweaters with various logos and NASA symbols for you to show off.
1. Geek Alliance American Flag NASA Gray Men's Tee Shirt
Why We Picked It Here's an affordable tee-shirt made from 100% cotton that supports both an American flag and the NASA logo. You can show off both your support for the country that landed the first man on the moon and NASA at the same time.
2. Geek Alliance - Nerd NASA Logo Black Dress
Why We Picked It What cooler dress is one that has the word "nerd" all over it? This mini dress comes in all sizes and is made from polyester and spandex.
3. NASA Backpack Sublimation Astronaut Bag
Why We Picked It The perfect backpack for anyone who is obsessed with astronauts and outer space. The drawings are beautiful, and the idea of carrying heavy objects with this backpack with illustrations of floating astronauts is the perfect irony.
4. Ripple Junction NASA Adult Unisex Hoodie
Why We Picked It This comfortable hoodie features four pockets in the front, an American flag on the size, as well as a cool illustration on the back. It's high quality with a zipper in the front for maximum comfort.
5.
Why We Picked It You can't go wrong with this classic tee-shirt. It's only $5.99, on sale from $10.99 and made from 100% cotton for maximum comfort.