Upgrade Your Water Bottle With This Ultra-Cold Alternative
Say sayonara to water that gets warm before you can even drink it.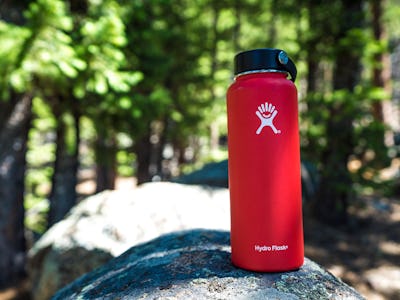 Unsplash / Evan Wise
It's 2019 and plastic is over. If you've been a commuter, or you've spent any amount of time hiking or on a college campus, chances are you've already made the switch to a reusable water bottle for your daily hydration needs. But if you haven't—or you aren't satisifed with your exisiting Nalgene or college orientation water bottle—now is the time to switch to a Hydro Flask.
My partner and I have owned various Hydro Flasks throughout the years and the only reason we have owned several is because we operate in constant pursuit of a larger water capacity. As a fan of the Hydro Flask, I can tell you it really does work. Work at what exactly?, you might be asking, thinking that all a water bottle has to do is not leak and have a mechanism for drinking.
And to that, I tell you to raise your standards. Imagine being able to consume water as cool as when it came out of your refridgerator up to 24 hours later. That is a beautiful gift if you are going on a long commute, all-day hike, or overnight camping trip. Made of double walled pro-grade stainless steel, Hydro Flask is both durable and free of harmful chemicals like BPA and phthalate.
At 32oz in capacity, Hydro Flask is larger, slimmer and more lightweight than competing metal water bottles—making it an easy addition to any backpack load. Prefer to hold your water bottle? Me too.
Hydro Flask sets itself apart with the convenient carry-friendly lid with a handle that can be easily held or clipped to any belt loop or pack. The exterior is coated in Hydro Flask's properietary powder for easy grip, extra durability and none of the "nails on a chalkboard" sound of clanking metal. Moreover, all Hydro Flasks are protected by a lifetime guarantee against defects in materials and workmanship.