Watch a Dad Cry Tears of Bliss Playing Oculus Rift's Apollo 11 Game
In space VR, everyone can hear your unbridled joy.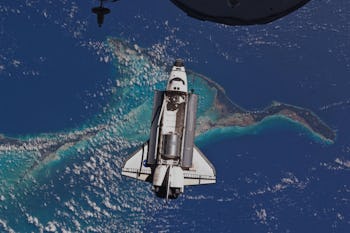 Getty
It's tough to write about virtual reality without either feeling like 1) you should include a note of caution tempering wild expectations, or 2) like you're grasping at wispy metaphors when trying to relate the sense of presence, of being-there-ness that comes with slipping on a headset. This video of a dad playing the moon landing sim the Apollo 11 Experience at his son's behest and promptly turning into an emotional puddle of joy takes both of those concerns and jettisons them into outer space:
YouTuber Austin Hooper writes to Inverse in an email that his dad had always wanted to go to space.
Through the power of virtual reality, he got to have a taste of that. A taste of a dream that he's always had. And my dad isn't sure if he'll ever be able to actually realize his dream, so when he got to experience the closest thing to it, it hit him, and it hit hard.
The video packs such an emotional wallop, according to Hooper, because we can all connect with that feeling. "Plus," as he points out, "it looked like my Dad needed a hug :)"
And we're suckers for super happy dads.